Dear Friend,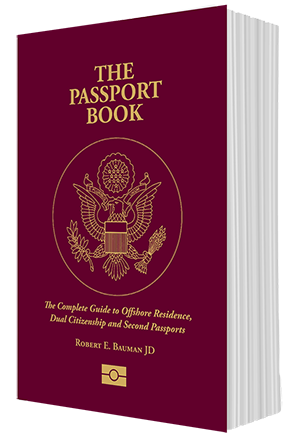 With your permission, and with strict precautions for privacy, I would like to send you the newly revised, 12th edition of Robert Bauman's best-selling and controversial work...
THE PASSPORT BOOK:
The Complete Guide to Offshore Residence, Dual Citizenship and Second Passports
This is a "must-have" book for your personal library. It reveals why millions of people already have their second passports and how you can join them in removing the government's vise-like grip from around your neck… how you can become an independent world citizen – free to live, work, and acquire property anywhere in the world, without Big Brother watching over your shoulder.
Never in the history of the United States have ordinary people had so much of their hard-earned incomes stolen from them through exorbitantly high income taxes that seem to increase without end each and every year.
Never before have people had to live according to so many complex statutes, laws, and regulations, most of which are completely useless. All they do is classify you as some sort of "criminal" in the eyes of the law... and keep swarms of lawyers, bureaucrats, and government workers fat and happy in their jobs.
Never before have people's God-given rights and civil liberties been so eroded... their personal privacy so violated… all in the name of national security. You and I, and any other intelligent person, knows that automobile accidents kill more people in the United States each year than acts of terrorism.

It's been well over 200 years since Benjamin Franklin said that... and it's truer today than ever.
That's why, after practicing law for over 40 years, Bob is convinced beyond a shadow of a doubt that you can have a life full of personal freedom and abundance, simply by learning the latest strategies contained in his best-selling book.
Powerful Information
No One Ever Told You About!
Here are just a few of the dozens of powerful and life-changing secrets you will discover in this information-packed, 1000+ page essential "field guide" to international traveling and living.
Secrets like...
The top websites and contact information for 87 foreign embassies and consulates that will take the hassle out of going offshore
The shortest and easiest ways to obtain an EU Passport so you can live and work permanently in any of 37 European countries without immigration troubles
Which foreign officials to contact to expedite all passport and citizenship documents
Five ways to acquire dual citizenship (you may qualify just because of your ancestors!) and how to reap extraordinary tax, privacy and business benefits from it
Discover the two beautiful Caribbean island nations that grant immediate citizenship (I can almost guarantee they're not what you'd guess!)
The four best countries for starting and operating a business
Where to find tax-free Alpine retreats with all the winter outdoor sports you can handle
Trade in your dress slacks for Bermuda shorts and relaxing on the white sand beaches of a secret residential haven
Discover how simply making a direct cash contribution to banana crops could lead you to the most private and reliable way to travel ... without a visa ... to more than 100 countries and territories
And much, much more....
So Why Should You Listen To Bob?
Because, when it comes to "going offshore," there's no one more experienced and more qualified. Period.
After reading for his juris doctor degree from the Law Center of Georgetown University, he practiced law. Less than a decade later, he was serving as a Member of the U.S. House of Representatives (1973-1981). The Wall Street Journal, The New York Times, the National Review, and many other publications have featured his work.
His position in Congress took him on trade and diplomatic missions around the world – from Beijing (back when it was called Peking!) to Panama and points in between. Since then, as Legal Counsel to Banyan Hill Publishing, he has led offshore banking expeditions to dozens of countries on five continents.
Currently, he is a sought-after advisor, author, and lecturer on many aspects of wealth protection, offshore citizenship, and international residence.
Bob has truly been around the global block. And while he still believes the United States is one of the best countries of the world... the sad, yet undeniable, facts are that the American way of life has deteriorated over the past 50 years. And the pace of decline is only accelerating.
He wrote THE PASSPORT BOOK to help people like you discover more options for living with the rights you deserve by regaining control of your life. After all, your life belongs to you.
But there's one small problem...
Only a limited number of each revision is printed. Because of this, -- previous editions have quickly sold out. So sometimes, the only way to get your hands on one is on the "black market."
Recently I saw an online seller on Amazon selling their personal copy of a recent edition of this extraordinary book for $179.99!
Are we mad at this seller? Of course not. That's the good part of the American Way of Life. Buy a book and that copy is your property (just that copy though... not reprints!) You can do with it what you like: read it, re-read, store it for reference or memorize key parts, even sell your copy on the Internet. That's up to you.
Now, you can either go online and buy a copy of Bob's book for $179… if it's still available. Or you can act on my special offer today, pay 1/3 that price... and get a gift worth $97 to boot.
Order Today And Get THE PASSPORT BOOK For Just $59... (Not $179)
While the previous eleven editions of THE PASSPORT BOOK have educated, enlightened, and empowered thousands of readers looking to expand their personal freedom and increase their travel options, Bob realizes he has only reached a tiny fraction of the people who could benefit from his knowledge and experience.
That is why you MUST add this book to your personal library. It will become your go-to reference guide any time you travel or live internationally... even if you take short trips to Canada or Mexico.
I have already touched on several secrets THE PASSPORT BOOK contains, however, let me give you a quick glimpse of a few more:
The names of the four countries that are the most affordable for retirees who live on a fixed budget
The one nation that offers the highest level of personal and business privacy in the world
How to successfully protect yourself from international identity theft, avoid passport fraud and counterfeit travel documents
How a second passport can save you from incarceration… and could even save your life!
The 5 countries where you can qualify for government health programs and FREE prescriptions
Details of those nations ready to roll out the red carpet for you… they offer special financial and lifestyle incentives if you are a scientist, engineer, medical professional or other educated professional able to fill critical positions within their communities
Five countries that offer endless acres of beautiful, pristine landscapes for less than 1/3rd of what you'd pay in the U.S.
Where you can live like royalty for less than $390 a week!
How to own a resort rental just a few steps away from the beach in one of the world's most exciting locations... with tax breaks and 50% savings as part of the deal
When you order this book, it will enable you to make unparalleled decisions based on the most up-to-date, rock-solid knowledge so you can join those world-traveling, jet-setting CEOs and entrepreneurs you've heard about (and may even envy).
WARNING:
Beware of Your Eroding Rights and Liberties!
When you have practiced law as long as Bob has (over 40 years now), you become privy to insider information about how the government is literally devouring your God-given rights and civil liberties.
I'm talking about closed-door meetings held in the halls of Congress, where your elected "representatives" are sworn to complete secrecy…
I'm talking about memorandums full of vague legalese, buried deep within 500+ page documents that talk about how the slightest infraction or simply belonging to an innocent association can allow government to classify and label you a domestic terrorist…
I'm talking about water-cooler discussions that take place in court houses and law offices about upcoming federal and state laws that can strictly limit your ability to travel internationally.
Listen... I'm not trying to scare you. I just want you to know what is going on when it comes to your rights. Those you entrust to protect your rights purposely make the legal system more complex for you because they don't want you to understand what they're really doing with the power you gave them.
Bob wrote his book to simplify that system for you...
His book will prove to be an indispensable guide to international travel and living. It will teach you ways to quickly and painlessly "shortcut the system." It could even save you countless hours and thousands of dollars...
You'd Be Crazy To Say "No!"
I want to send you a copy of THE PASSPORT BOOK to read 100% RISK-FREE for 1 year. You can devour all its closely-guarded secrets of traveling and living internationally so you can once and for all escape Big Brother's skyrocketing taxes, governmental controls, and invasions of personal privacy...100% RISK-FREE For 1 year!
All you need to do is order the newest, 12th edition today for just $59 (plus shipping). You won't find this edition in any store, and the copies selling on Amazon for as much as $179 are seriously out of date (...feel free to verify)!
Then, keep the book for 1 year. Read it. Explore it from cover to cover. Check out the dozens of powerful and life-changing secrets contained inside.
And if, for any reason (or even no reason at all), you're not 100% satisfied with what you've learned, then just send the book back and I'll send you a full and fast refund of every dime you paid.
Imagine... all the doors to opportunities you have only dreamed of… with this book, they'll all be opened to you….
Just click on the "Add To Cart" button below to reserve your copy. It's the most IMPORTANT book currently missing from your personal library...
Kind regards,

Jeff Yastine
Editorial Director, Banyan Hill Publishing
P.S. -- SPECIAL $97 BONUS JUST ADDED
Respond in the next 24 HOURS and I'll give you instant access to Banyan Hill Publishing's newly-released special report, titled:
Plan B: Where to GO When It's Time to Get Out of Dodge (a $97 value). This report was originally reserved for existing Total Wealth Insider subscribers only, but we decided to make it available for a short time. The declining standard of American living is proof of the direction our government seems destined to pursue. Because of the risk this creates in our financial lives, we all need to have a Plan B in place. And part of that plan involves moving your money overseas... into real estate.

In this special report, we have scoured the globe in search of places that welcome Americans, have a high standard of living and have profitable real estate. And we've found extraordinary opportunities in three of the most beautiful countries in the world...
Just click the "Add To Cart" button below, and not only will I rush you the most important book missing from your personal library, I'll give you immediate ONLINE ACCESS to the $97 Special Bonus Report. But to qualify, you must respond in the next 24 hours!