See this little device ... this one right here...
Insiders are calling the science behind it "the greatest innovation in history," "the future of technology" and the breakthrough that will ignite the "second Industrial Revolution."
That's because this tiny invention is predicted to "rival past technological marvels, such as the printing press, the steam engine, and electricity"...
Ushering in "a period of economic nirvana."
And it's not just the economy that will benefit ... thanks to this little device, 300,000 innocent victims will get a second chance to live due to this technology, millions of seniors will have the chance to stay in their own home, instead of being forced into a nursing home, and every person who chooses to use it will gain an extra 50 minutes, each day, to relax.
Experts at Fortune 500 companies and government agencies, as well as the world's wealthiest investors, expect 50 billion of these devices will be in use within the next four years.
That's unprecedented growth when you consider that...
It took 40 years to sell 1 billion personal computers.
It took 20 years to reach nearly 7 billion cellphone users.
And it took 5 years to reach 1 billion tablet users.
Yet in the next four years, this remarkable device will be seven times BIGGER than computers, cellular phones and tablets ... COMBINED.
In fact, if you were to look at these four industries today, they would look a lot like these marbles.
However, this device is growing in demand and will surge 8,000% in the next four years ... blossoming into a $19 trillion industry.
By 2020, the landscape will look like this.
That's why companies are rushing at breakneck speed to get in on the action right now. Cisco just invested $1.4 billion...
IBM is investing $3 billion...
Google is investing $3.2 billion.
And the world's greatest investor, Warren Buffett, through Berkshire Hathaway, has already invested a whopping $13 billion.
Amazon, Samsung, Apple, Oracle, Ford, Disney, Tesla, Microsoft, Intel, Pfizer ... the list goes on and on.
Never before has an innovation moved at such an unfathomable pace.
The London School of Economics says: "The future is now and [this revolution] is going to disrupt most of the traditional industries."
It will boost productivity, and save companies millions, likely billions, each and every year.
In fact, Facebook announced that this breakthrough has already saved its data centers 38%.
UPS used this tiny innovation to reduce its fuel consumption by 9 million gallons ... a $31 million savings.
And it's not just big conglomerates getting in on the action.
Governments are scrambling to invest in this, too.
The city of Barcelona, Spain is an early adapter, and now its water system alone saves $58 million every year using this innovation.
The city of Glasgow in Scotland is investing $37 million in this as well.
And Senators Deb Fischer, Cory Booker, Kelly Ayotte and Brian Schatz have sponsored a bill called DIGIT to help fast-track this breakthrough across America with federal assistance.
The bill confirms that 50 billion of these tiny devices will be connected by the year 2020, and states that this tech revolution "has the potential to generate trillions of dollars in economic opportunity; businesses across the country can simplify logistics, cut costs and pass savings on to consumers."
This technology is not just a game changer.
It is the game changer.
And it's going to mint more millionaires than any other innovation in history. More than the steam engine, more than automobiles and more than the Internet.
Its current market is just $235 billion.
But experts project it to go parabolic ... and soar to $19 trillion by 2020.
That's 8,000% growth!
In a moment, I'll tell you about the one little device that's at the forefront of this technological revolution, and who makes it.
Most importantly, I'll give you specifics on how you can personally profit from it. In fact, if my analysis is correct, you could potentially see thousands of dollars turn into hundreds of thousands of dollars in a short amount of time.
You will soon understand how these types of gains are possible once you see how this technology works – and how it will benefit the companies, countries and governments who use it.
First, it's important for you to know who I am, and why I've never been so certain about anything in my life...
My name is Paul Mampilly.
I started my career on Wall Street in 1991 as a research assistant at Deutsche Bank. I quickly advanced to prominent positions at Bankers Trust and ING, managing multimillion dollar accounts.
In 2006, I was recruited by the two owners of a $6 billion firm to be the key manager of their hedge fund.
Soon after I joined, the firm's assets under management soared ... to $25 billion.
Everyone took notice.
Barron's named us as one of "World's Best" funds, Kiplinger ranked us in the top 25, as a result I was invited to take part in a prestigious investment competition to see what I could do with $50 million.
Well, in one year, I was able to make a 76% return. Not too bad, considering I did this during the 2008 and 2009 economic crisis, and I did it without shorting stocks or making risky bets.
I won the competition and was thrust into the limelight.
I've appeared on CNBC, Fox Business News and Bloomberg TV, and yes, you've likely seen me on one of these programs before.
Of course, most people never knew about my personal gains.
Take a look.
For instance, I uncovered a stock by the name of Sarepta Therapeutics when it was in the infancy stage of developing a drug to treat muscular dystrophy. I invested in April 2012, and sold just eight months later, making a 2,539% gain.
And while most people were skeptical of Netflix in 2008, I wasn't. Having insight into technological advancements, I knew the future of TV was streaming online video. I invested in October of 2008 and sold in May of 2010, making a 634% gain.
I also saw a huge opportunity in Universal Display when they created organic LED technology. I discovered the opportunity very early on ... buying in September 2008, and selling in April of 2011... pocketing a 293% gain.
As you can see, the list of triple-digit winners goes on and on. I made 264% from October 2008 to April 2011 on Stratasys
... 696% in just 22 months on Ariad Pharmaceuticals
and a 355% gain on Exact Sciences Corporation.
I cashed out with a 279% gain on Facebook,
and in February I made a 327% gain on Olympus.
I made 298% gains on Whole Foods,
a 269% gain on Cemex
and 266% gains on Grifols in 30 months.
These 11 stocks made cumulative gains of 6,220%.
Now, I'm showing you these gains not to brag.
But rather to prove to you that when it comes to identifying and seizing opportunities ... I know what I'm doing.
And as great as these gains are, I fully believe the opportunity that this little device presents could make even bigger gains ... giving you the chance to turn every $1,000 into $838,833.
Of course, there are no guarantees in the financial markets. But the potential behind this technological revolution is undeniable as it grows 8,000% into a $19 trillion industry. If it does only half of what I'm expecting, it will make you incredibly wealthy.
Imagine what you could do with those types of profits. Perhaps you would use that newfound money to retire earlier than you ever thought possible and buy that dream house you've always wanted.
That's what I did.
After making all my gains, I retired at the age of 42 and moved into a country home located on the outskirts of Raleigh, North Carolina.
Fact is, I never did fit in on Wall Street.
I quickly grew tired of the corporate greed.
Tired of the 16-hour work days.
Most of all, I was tired of missing the time I needed to be spending with my children.
So my wife and I walked away when we knew we had plenty of money to live on.
Today, I have the privilege of bringing my kids to school and watching them compete in fencing and learn piano.
Of course, I'm still an investor.
Investing has been ingrained in my mind since a child, when my father explained to me that it was the best way to get out of India's rat race, where few can escape the lower class.
Indeed, it was my father who worked endlessly to put me in a private school and opened the doors to an American college.
Perhaps that's why today, investing has taken a unique turn for me.
You see ... when I was on Wall Street I made money for the 1% ... such as European aristocracy, Swiss private banks and for the Royal Bank of Scotland ... helping them turn millions into billions.
But now I help Main Street Americans find ways to turn thousands into hundreds of thousands.
And I am doing it in a way that is truly revolutionary. I'm allowing people to virtually look over my shoulder at my own model portfolio so they can know exactly what to buy, when to buy and when to sell. I'm also letting them in on my private chats with business insiders ... so they can be there with me as new opportunities unfold. It's truly exciting.
Thousands of people are already using this revolutionary method to invest.
Take a look at what they have to say...
Aaron Kingman – a retired cardiologist – wrote in to tell me:
"Paul, HOLY COW. You were right. This morning I awoke to a new $16,000 GREEN INCREASE on my account. It happened, just like you said. You nailed it. I made a clean crisp 400%. Thank you."
David Turner – an accountant – wrote:
"Back in 2012, I had never bought a stock in my life, but I wanted to invest. I happened upon Paul Mampilly on the net. I made $18,268 in just 33 months with a single company Paul found. Paul specializes in unearthing the diamonds in the rough – before anyone else has found out about them."
John Dickson – a civil engineer – says:
"The first recommendation of Paul's I bought was Yahoo, back in 2012. I made a 290% gain. Paul has a wide global experience of life and business, and somehow integrates all that in a way that he can see the signals of success in a way others can't match."
In a moment, I will show you how another man made a gain of $109,115 and yet another made gains of $77,150 on one position.
More importantly, I'll show you how you can join them.
Best of all, anyone can use or simply follow my revolutionary way of investing.
But you have to get started now.
This opportunity is so large – and so potentially lucrative – that it could pass you by in a matter of days.
It reminds me of one of the biggest stock market successes in modern history ... Microsoft.
If you were to invest in Microsoft back on March 13, 1986 – the day Microsoft went public – a $1,000 investment would be worth $838,833.
I think this opportunity could do the same for you ... without having to invest in an IPO or take on unnecessary risk.
But it won't take 30 years for this to happen. This has the potential to be done in four years.
And the gains will be even bigger.
I'm talking about unimaginable riches – think about Bill Gates' fortune of $77 billion, but think bigger.
I know that's a huge claim.
I hope it gives you pause.
But I also hope you're intrigued, because this innovation has the world's greatest investors, richest companies and most powerful governments clamoring to participate as they see this area of the tech sector grow 8,000% by the year 2020.
And you have the rare opportunity to get on board with them.
On the cutting-edge of this breakthrough technology from a well-positioned company that's begun massive production of this little device...
Before I tell you more about this company, and how to position yourself before the mainstream catches wind, I need to let you in on a secret.
It's the secret that helped me make those 6,220% in cumulative gains I showed you earlier.
You see, most investors – Main Street and Wall Street alike – ignore history.
Especially when it comes to technology. But that is foolish.
When it comes to technology – history always repeats itself.
Every innovation follows what's called the technology innovation curve.
Take a look for yourself.
It has three phases.
Phase 1 is innovation.
This is when a new technology comes to market.
It's the "make it or break it" phase. Many technologies never make it out of this phase because they never gain mass appeal.
Phase 2 is the acceptance phase.
This is where investors make a killing.
Find a company with a breakthrough technology that's on the cusp of entering the acceptance phase – and generational wealth can be made.
Just like the $5 billion firm that makes the device I've been talking about.
Hence the urgency, and enthusiasm, with this message. This innovative company is ready to take off, and I want you to have the opportunity to make life-changing gains.
The final phase is saturation.
At this point, practically everyone uses the technology and the biggest profits have been made.
Understanding this very simple diagram is what has allowed me to spot Sarepta Therapeutics as it was entering Phase 2 ... and I made gains of 2,539%.
It's the same thing for Netflix. Remember how everyone questioned if online video could ever make it? That was Phase 1. Phase 2 is when everyone started subscribing. THAT'S when you want in. Profits are to be had, and the majority of the risk is off the table. It's now in Phase 3, which is why I no longer own it.
I made 634% on that trade.
Same for Universal Display. LED lights were about to enter their acceptance phase, so I invested ... and walked away with 293% gains before LED went into the saturation phase.
Nearly all of my gains have been made this way.
Of course, the trick is to know when a technology is going from Phase 1 to Phase2. That's why I still wake up at 5 a.m. every morning to do research, and it's still why I have all the connections that I have.
For example, I've met with the New York Times best-selling finance author Nassim Nicholas Taleb, Nobel Prize winner Daniel Kahneman and the man who decoded the human genome, Craig Venter. I've even met with the founders of Gilead Sciences, Vertex Pharmaceuticals and Alexion Pharmaceuticals, among many others My point is, I know – without a shadow of doubt – that this new technological revolution is on the verge of entering the acceptance phase.
Again, in the last 30 years, just 1 billion personal computers, 1 billion tablets and 7 billion cellphones have been sold.
Yet this fast-emerging technology will be in 50 billion devices by 2020.
No doubt, those who act fast will create unprecedented wealth.
I've never been more certain of anything in my 25-year career.
So what is this breakthrough that's going to change the world? What's the device that's so tiny that 100 of them can fit on the surface of this dime?
In short, it's the technology that will "computerize" everything in our lives. In fact, you are probably already using it and don't even know it!
Let me explain...
Through an intertwined network of objects embedded with sensors, analytics software and electronics ... billions of devices – up to 50 billion by 2020 – will be talking to each other ... analyzing, collecting and exchanging data to complete tasks.
This intertwined network of billions of devices is called the "Internet of Things." Now, odds are, you have heard of this. But from my experience, few people understand exactly how massive this technology is.
It's a groundbreaking innovation that The Wall Street Journal writes: "In a world of ''Next Big Things,' the Internet of Things ... is a very, very, very Big Thing indeed."
New York Times best-selling author and chief economist at the Consumer Electronics Association Dr. Shawn DuBravac says: "It's safe to say that we are at the start of another industrial revolution. The 'Internet of Things' will rival past technological marvels, such as the printing press, the steam engine and electricity."
Global consulting firm Accenture reports: "Connected devices aren't just changing the way consumers live, work and play – they're dramatically reshaping entire industries."
The Internet of Things is the Internet's second wave of development.
You see, the Internet's first wave was the "Internet of People" – it enabled people to connect with other people and businesses.
In the 1990s, the Internet connected 1 billion users and in the 2000s, through mobile devices, another 2 billion were connected.
But this next wave, the "Internet of Things," is projected to connect seven times more "things" than the Internet's first wave ... and it's expected to do this by 2020.
In simple terms, it will allow machines to talk with other machines.
Now if you have the vision to see the massive societal impact this next wave will have ... you will be able to see that this is your opportunity to create a fortune so incredibly large – that it provides plenty of monetary gains for your family for generations to come.
Just like computers, tablets, smartphones and the Internet's first wave changed our lives, the Internet of Things stands to revolutionize the world on a much grander scale.
What sets it apart from the Internet we currently use is that it's going to connect and collect data from absolutely ... everything.
Everything we live in, drive in, eat in, work in and even sleep in.
One example ... is a driverless car...
Mercedes Benz, Ford, BMW, Tesla, Volvo and Google ... to name a few ... are already rushing to bring these cars to market.
One driverless car has already logged over 1,000,000 open-road miles. And Business Insider reports that "10 million self-driving cars will be on the road by 2020."
The implications are mind-boggling...
The Atlantic writes that "self-driving cars could save over 300,000 lives per decade in America" ... reducing traffic fatalities by 90%.
McKinsey & Company estimates self-driving cars could free up as much as 50 minutes a day for users ... giving travelers time to relax, sleep or even work on their commutes.
And The Washington Post says: "The future of Google's driverless car is old people" ... as it focuses in on baby boomers who have money to stay mobile.
As a recent segment on 60 Minutes put it, Silicon Valley is quickly becoming the "new Detroit for self-driving cars."
Cars will be talking to other cars, weather stations, the Department of Transportation, stoplights and the very road they drive on, in order to get you to your destination safely.
And every one of these cars will have this little device in them. More on that in a moment.
Cars are just the start.
The Internet of Things has already made its way into our homes, pockets and onto our wrists...
You can already buy Internet-enabled thermostats, light bulbs, refrigerators, baby monitors, windows and toasters that observe your behavior and adjust to your likings.
You can even buy a toilet that opens, closes, deodorizes, rinses, plays music and tracks usage via a mobile app.
Smartphones, like this one, are used by 68% of U.S. adults. It is central to the Internet of Things. If I enable it to, it will track my every movement.
It will know where I am and communicate location back to apps like Google Maps and Waze to determine where there are traffic jams. It will also tell me where my friends are, play music through my car speakers, check me out with the cashier at the grocery store and so much more.
Of course, there's a lot more to the Internet of Things than just setting the ideal temperature, safely carting us around town and flushing toilets...
It's going to revolutionize every industry on the planet.
To grasp how big this will be, just think about how the "old" Internet changed entire industries...
Amazon put Borders out of business ... but made it simple for us to buy books and thousands of products ... Investors who got in early could have made 1,482% in just 7 years.
Netflix put Blockbuster out of business and could do the same to the cable industry ... but it made it easy for us to instantly watch thousands of movies and TV shows ... Early investors have been rewarded with 1,485% gains in just 3 years.
EBay (and Craigslist) forever changed how we buy and sell household items ... its stock has made investors 547% in just 6 years.
There are so many more...
Uber is putting taxi drivers around the world out of jobs ... newspapers are going out of business ... encyclopedias and yellow pages are extinct ... and when was the last time you bought a map?
With the abrupt shift to the Internet of Things, not only are we going to witness the greatest technological breakthrough in history ... but it's also going to make people who start positioning their wealth now very rich.
And it's already begun to cause drastic changes in nearly every industry on the planet – energy, manufacturing, health care, food, aerospace, marine, banking, automotive – at a breathtaking pace.
You see, these industries are putting this technology to use by enabling its automation abilities.
Companies will soon have employees...
They don't have to pay.
That don't need health care.
That work 24 hours a day, 7 days a week.
That don't take coffee or restroom breaks and never get sick.
That never make mistakes.
And that work with the lights out to save on utilities.
The "employees" doing this work ... well, they aren't people.
They are sophisticated machines that are interconnected to one another.
As you may have guessed, I'm talking about robots.
As Isaac Asimov prophetically told The New York Times in 1964: "Gadgetry will relieve mankind of tedious jobs."
And sophisticated robots have already begun making their way into the workforce...
Manufacturing: Siemens, Harley Davidson, GE and Cisco all use smart, interconnected machines to run plants. The typical manufacturer is projected to see productivity increase 34%, workforce efficiency surge 48% and have annual plant savings of $1.5 million.
Health Care: The University of California San Francisco Medical Center has a robotics-controlled pharmacy that has dispensed 350,000 prescriptions without making one error. The next time you pick up your prescription, there might be a robotic pharmacist behind the counter.
Legal: The New York Times reports that BlackStone Discovery – an e-discovery and litigation firm that uses electronic data discovery software – of Palo Alto, California, can analyze 1.5 million documents for less than $100,000. A team of paralegals would have charged $2.1 million to review.
Fast Food: At Eatsa, a futuristic San Francisco-based vegetarian fast-food restaurant, there are no employees. Customers use a touch screen to order their food and pay electronically. When the order is ready, the meal slides into a "cubby" that lights up with the customer's name. The meal is ready in a matter of minutes.
Retail: Dr. Bill Hardgrave, dean of Auburn University's business school, says that RFID technology – the tagging of products so they can be tracked, and the most well-known example of Internet of Things technology – is a huge benefit for retailers. With RFID tags, retailers can expect 99% inventory accuracy, a 70% reduction in shrinkage and a 2% to 7% increase in sales. Self-service checkout machines, automated stacking of shelves and changing of price tags are also on the rise.
These five examples are just the tip of the iceberg...
Every industry is starting to implement this new technology ... as a recent GE survey reveals, 90% of the companies surveyed are implementing Internet of Things as one of their top three priorities.
Again, the Internet of Things is in its infancy.
We are merely right here on the technology acceptance curve...
This is just the start ... of what promises to be a fast, profitable ride for early investors.
The market for this technology will grow at an exponential rate – the likes of which the world has never witnessed...
From just $235 billion to a staggering $19 TRILLION in only four years.
That's an 8,000% growth rate!
As you likely know, the tech sector is responsible for many of the greatest fortunes in modern times...
Mark Zuckerberg, founder of Facebook, is worth $37 billion.
Peter Thiel, cofounder of PayPal, is worth $3 billion.
Elon Musk, founder of Tesla Motors, is worth $13 billion.
Jeff Bezos, founder and CEO of Amazon, is worth $46 billion.
Sergey Brin, cofounder of Google, is worth $34 billion.
The tech sector is so lucrative that it's turned a $1,000 investment into $838,000 in a single transaction.
Yet, the Internet of Things could DWARF every technology before it...
And it's just begun ... with the biggest companies in the world shifting away from the "old" Internet to the new and improved one...
| | |
| --- | --- |
| Facebook | Oracle |
| Amazon | Ford |
| Samsung | Disney |
| Apple | Tesla |
| Microsoft | Merck |
| Cisco | Pfizer |
| Intel | AT&T |
| Verizon | GE |
The massive potential here hasn't been overlooked by the world's smartest investors. I already mentioned Warren Buffett, but he is far from alone. In fact, the smart money has begun flocking here in droves...
Intel Capital, Qualcomm Ventures, Sequoia Capital and a dozen other venture capital firms are investing BILLIONS.
Chet Pipkin, billionaire CEO of Belkin, is putting all his resources into his firm's Internet of Things venture – the WeMo product line.
Billionaire Tom Seibel, founder of Seibel Systems – which he sold to Oracle for $5.8 billion – is now CEO of C3 IoT ... a business solely focusing on the industrial Internet of Things.
The list goes on and on.
It comes down to this...
The richest, smartest investors in America are loading up ... and I encourage you to do the same, immediately.
It's just a matter of time before word gets out.
When that happens, and it will...
It will be too late: You'll be left settling for the scraps of the newly rich.
The Internet of Things is the future of ALL technology.
The time to take action is NOW.
And at the epicenter of it all is a tiny device made by a cutting-edge company that could hand early investors 5, 10, 20, even 50 times their money.
Again, since retiring from Wall Street, I've made a lot of money tapping into the fastest-moving stocks on the planet ... without touching options or risky investments.
A few triple-digit winners include:
264% GAIN on SSYS
696% GAIN on ARIA
355% GAIN on EXAS
279% GAIN on FB
327% GAIN on OCPNY
298% GAIN on WFM
269% GAIN on CX
266% GAIN on GRFS
But here's the thing...
As remarkable as these gains are...
They pale in comparison to what you could make on the shift to the Internet of Things ...
And while there will be a number of ways to profit in the coming years, there will NOT be another opportunity like the one before you today.
You see, the dawn of a new technological age is upon us.
This is the very beginning.
And a remarkable – yet overlooked – company is at the forefront.
This company is literally at the pulse of everything shaping the new Internet.
If you were to make only one technology investment in the next decade, this should be the one.
I have absolutely no doubt.
Here are the details...
As I mentioned, the Internet of Things is going to connect 50 billion devices by 2020.
And the absolute best way to capitalize on this phenomenal opportunity is to invest in the one component that makes this technology possible...
It's the same component that's behind the biggest tech stocks in history.
I'm talking about software.
Software is the secret to technology riches.
Let's take another look at Microsoft.
It doesn't manufacture computers – it produces a software called Windows ... an operating system that's in 91% of all computers.
As mentioned a few minutes ago, early investors have seen huge gains...
A mere $1,000 investment here turned into $838,833.
I am confident investors with the foresight to invest in software companies driving the Internet of Things revolution – before anyone else realizes how massive this opportunity is – will be rewarded with returns that will trump these in a big way.
But it won't take 30 years. It will be done in just four.
You see, in order for the Internet of Things to work – every device must have one piece of software.
A tiny piece of technology called MEMS, which is short for microelectromechanical systems.
MEMS are tiny low-power sensors ... so tiny that 100 of them can fit on a dime ... some versions are just a thousandth of an inch in size.
The Internet of Things will be able to sense, think and act, but only with these sensors. They are, quite literally, the eyes and ears of the Internet of Things.
That's why investing in the right sensor company could mean life-changing profits in the next year.
Listen: We are witnessing the launch into a wondrous new age of innovation, the likes of which the world has never before seen. That age, above everything else, is being driven by sensors.
These sensors will impact almost every aspect of your life.
From the car you drive to the clothes you wear ... from the energy you use to the food you eat ... the entire world is about to undergo its greatest transformation ever.
Imagine being able to stay in the comfort of your own home and stay active, and independent, for the rest of your life ... with sensors that monitor your home and your health, it will be possible.
These sensors will keep your doors and windows locked, they will remind you when it's time to take your medication, when it's time eat and when to get up and go for a walk.
But they will also keep your doctors, health professionals and loved ones connected to you as well. So if you need a new pacemaker, your doctor will know it needs replaced. If you're suffering from a fever, a loved one will be alerted to stop by to check in on you. If your heart is beating too fast, an ambulance will be sent to rush you to the hospital.
Imagine never losing your freedom or your independence ... with the Internet of Things, you won't have to imagine much longer.
It's no wonder a well-known tech expert said: "Sensors are surely the next tech-boom to conquer the world."
The popular Mashable tech blog writes that sensors have been called "the unsung heroes in many of our favorite and beloved technologies" ... and it went on to say that MEMS are "particularly critical for smart home devices and the Internet of Things."
And Janus Bryzek, the man who is known as "the father of sensors" (and a VP at Fairchild Semiconductor), says the Internet of Things "is the largest growth [story] in the history of humans."
So, to get in on the action, you will want to own a company that makes these sensors.
A few leading sensor producers are Texas Instruments, Hewlett Packard and Bosch.
Each company has strong profit margins ... and when demand surges, profits will skyrocket.
The last time demand for sensors surged, the stocks of these companies did too.
For example...
Texas Instruments jumped from $24.82 to $59.28 ... a gain of 139%.
Hewlett Packard surged from $5.65 to $18.48 ... a gain of 227%.
Bosch went from $4,604 to $26,589 ... a gain of 477%.
But here's the thing...
I'm not recommending you buy shares in any of these companies.
For the folks who follow my research, I prefer recommending smaller companies that are well-positioned for this type of growth and that have less exposure to other risks.
My research has led me to a firm that stands to hand early investors much bigger profits.
Formed in the mid-'90s, this European-based company's CEO is a 40-year high-tech pioneer, and he's using his industry contacts to lock in some stellar contracts...
Investing in this corporate pioneer today will position you perfectly to enjoy a ride on the greatest technological wave history has ever seen.
In the last few months, Apple, Samsung and Bosch have already signed on to his firm's sensors.
Fact is, even if only a small portion of the $19 trillion flows toward this $5 billion firm, the growth will be through the roof.
8,000% growth is being conservative.
To give you an edge, I've put all the details in a special briefing called The Company Leading the $19 Trillion Tech Revolution.
This report tells you everything you need to know about this innovative company, its sensors and how it will dominate its market, giving you the chance to turn every $1,000 into $838,833.
I will give it to you for free at the end of this presentation.
Again, the Internet of Things is in its infancy.
It's right here on the technology innovation curve...
Going from its Phase 1 to its Phase 2.
And it's expected to soar from a $235 billion industry to $19 trillion by 2020.
That's an 8,000% growth rate.
And this company is perfectly positioned to capture the lion's share...
As it leaps into the technology scene with terrific force ... this firm is going to make the McDonald's, Home Depots and Coca-Colas of the 20th century look like little "Mom and Pop" businesses.
And, I have no doubt, if you invest in this company today, you will reap profits never before seen in stock market history.
There is no time to waste. This fast-moving shift to the Internet of Things is just beginning and the time to take action is NOW.
Again, my report called The Company Leading the $19 Trillion Tech Revolution is yours absolutely free.
But I'm not going to stop there.
There are several other opportunities to make double-, triple- and even quadruple-digit gains over the next few years...
To help you capture those opportunities, I have two additional reports to give you.
The second report is called 5 Technology Stocks That Will Power the Next Industrial Revolution.
You see, there are five core tech companies that will be at the epicenter of the Internet of Things revolution. These are the companies you'll want to stake your money on in the days ahead.
The first one is a Massachusetts firm that is pioneering a whole new robotics field called collaborative robots, or "cobots." These low-cost, simple-to-program and deploy robots improve quality and boost efficiency while working by the side of workers. This niche market is expected to soar from $100 million to $3 billion by 2020 ... that's a 2,900% growth rate!
The second company has a software that's leading the charge for driverless cars. It's expected to grow 134% every year for the next 6 years. This firm has a lock on supplying its camera-based, driver-assistance technology to Tesla, BMW, Honda, Ford and several others. This niche has HUGE profit potential.
The third company has a patented technology that's revolutionizing the manufacturing industry. As this field develops, the money here will be breathtaking.
The fourth company is in big data. Big data is the "fuel" that powers the Internet of Things, and there's a $3 billion artificial intelligence firm in Seattle with insanely complex algorithms that can interpret terabytes of data and turn it into useful information. Major corporations need this "business intelligence" technology ... and early investors stand to bank a small fortune.
The fifth company is in data farms. As the world becomes fully "computerized," the data needs to be stored somewhere. This company owns over 125 data farms around the world, and rents high-demand server space to industry-leading tech companies like Yahoo, Facebook and Google.
All five of these cutting-edge BUY NOW firms are detailed in my second report, 5 Technology Stocks That Will Power the Next Industrial Revolution.
But that's not all. I want to arm you with one more free report.
It's called 3 Ticking Time Bombs to Avoid!
That's because not every company is going to be able to profit from the $19 trillion industry that's heading our way.
For example, remember all the companies that went belly-up in the first Internet boom ... Pets.com ... Webvan ... eToys ... are a few that come to mind.
Well, the Internet of Things will be no different.
There will be those poised to be massive winners – companies like the ones I've described to you today. Companies that I've analyzed, researched and fully vetted.
And there will be losers. Companies that talk a good game and promise the world, but that don't have the infrastructure, technology or management in place to deliver.
Most people can't tell the difference between the two. Indeed, most professional investors don't have that ability. But I've uncovered three of these "sound great" companies that are all the rave, and I expose each of them in this report.
Because while they sure do talk a good game, the fact is, all they will do is drain your account dry.
I want you to have these three reports for free because, fact is, I've spent the last 25 years of my life helping Wall Street turn millions of dollars into billions of dollars. Now I'm spending the next 25 years of my life showing Main Street Americans how they can turn thousands of dollars into hundreds of thousands of dollars.
I remember all too well what it was like in 2000 and 2008 when the market crashed.
Let me show you what I personally did.
In September of 2008, I put ALL of our money in the market. My wife looked at me like I was crazy and was deeply concerned that I had lost my mind. You can see why. The stock market looked like it could go to zero.
Nearly all my money was in three common stocks that you may even own...
The first one was Whole Foods, the supermarket chain. Over the next few years, Whole Foods soared 298%...
IRobot was the second company. It surged 198%...
The third one was a 3D printing company called Stratasys. It went up 264%...
The result: I more than DOUBLED our money in less than three years, with just these three investments.
And while I'm not comfortable revealing how much we made, I will tell you that we're set for the rest of our lives.
Risky?
Not if you knew what I knew. I was certain ... without a shadow of a doubt ... that the stock market would come roaring back.
Most people weren't so lucky.
Like a friend of mine – Sarah.
When she inherited $500,000 from her father a few years after the 2008 crisis, she was terrified. Her father had worked hard, and the last thing she wanted to do was lose it.
She needed help and turned to me.
She knew my track record of success and knew that I hate risk.
I agreed to help Sarah navigate the market.
Soon after Sarah doubled her money, making over $550,000.
She's used those gains to pay off her mortgage and buy a second home. Best of all, she no longer worries about money.
After helping Sarah, other people in my town started seeking my help. And I didn't shy away from it. But it started to take up too much of my time.
If I wanted to help people, I knew I would have to find a better way to do it.
So I contacted an independent financial publishing firm.
I was a bit surprised that no introduction was needed.
The CEO at the firm already knew everything about me ... how the hedge fund I managed grew from $6 billion up to $25 billion after I joined it – leading to Barron's calling it one of the "World's Best." They had also heard how the Investment Competition crowned me as the winner of their competition when I made 76% returns on $50 million from 2008 to 2009.
I made a proposal to them .... a new, revolutionary way for people to get access to me ... my model portfolio, my insight and my guidance on a regular basis ...
They were blown away by how simple it was, and how cheaply we could provide access to my research.
We immediately started a unique advisory service called Profits Unlimited.
This research service allows you to look over my shoulder to see my model portfolio, to send you alerts when it's time to buy or sell recommendations, to get weekly updates directly from my computer to yours and so much more.
The moment you become a member of Profits Unlimited, you become part of my "inner circle" – just like Sarah – and you'll get access to my research ... and all of the investment opportunities I uncover each and every month.
As a members of Profits Unlimited, you will receive:
Access to my model portfolio ... This portfolio includes every stock that's on my "buy now" list. I will typically recommend 12 new stocks every year. The portfolio will tell you what to buy, at what price to buy it and when to sell it. To be clear ... the portfolio will not just focus on the Internet of Things or tech stocks. I focus on all sectors of the market. If there is a chance to make "unlimited" profits ... I'm going to find it and recommend it.
You will also get weekly updates ... With these weekly updates, you will never be left in the dark. Every Wednesday, I will reach out to you. I will update you on our current positions and what's happening in the markets.
And when it is time to make a trade, I will send you trade alerts via email. The email will tell you exactly what to do. And with today's technology, if you choose to invest, you could make the trade over your phone, desktop or tablet. It's that easy.
My monthly briefings are my favorite part. Every month, I dive into a specific topic. Usually this topic revolves around a new investment I am targeting. I essentially take you with me as I meet with industry insiders and show you what I find as I conduct my forensic investigation on the stock.
You will also receive 24/7 access to my website. I keep all my latest information on an encrypted website that members can access at anytime, anywhere.
And of course, you get a dedicated customer service team. If you ever have questions about your membership, simply give one of my team members a call. They will walk you through whatever you need.
Again, once you join Profits Unlimited, you will get access to me.
Like Sarah, you will never have to worry about another stock market crash wiping out your portfolio, you will no longer have to settle for paltry returns from funds weighed down by management fees and you will no longer have to second-guess your decisions.
A handful of people are already following my research ... people just like Sarah.
For example...
A guy named Mitchell K. recently contacted me. Mitchell is an everyday investor who made $109,115 with just a single company I told him about.
Another gentleman was so thrilled with his results, he emailed me this snapshot of his brokerage account...
See below.
He made $77,150 on one position ... a gain of 799%. That's more than most people make over the course of a year working full-time. What could you do with a $77,150 windfall?
Another position brought in $31,965. That's over $100,000, simply by following my lead and placing a trade within a matter of minutes.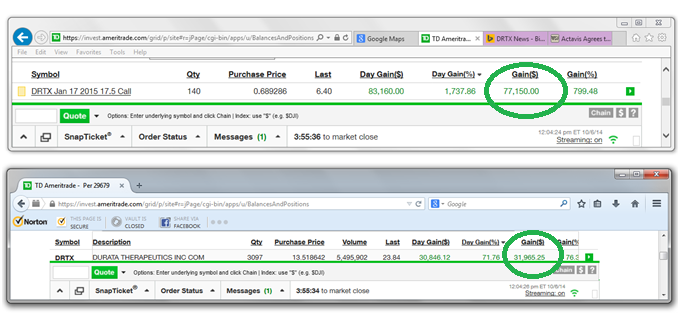 Profits like these can be yours, too. In just a few moments, you will have the chance to book strings of triple-digit profits like these.
2,539% GAINS on SRPT
634% GAINS on NFLX
293% GAINS on OLED
264% GAINS on SSYS
696% GAINS on ARIA
355% GAINS on EXAS
279% GAINS on FB
327% GAINS on OCPNY
298% GAINS on WFM
269% GAINS on CX
266% GAINS on GRFS
And, while I'm thrilled these winners made cumulative gains of 6,220% ... I'm confident they will look like puny compared to what's ahead.
With events quickly unfolding before our eyes, there's never been a better time to join Profits Unlimited than now.
This small device is on the verge of growing 8,000% in just four years ... giving you the chance to turn every $1,000 into $838,833.
I don't want anything holding you back from what's at hand.
Helping you achieve an immense amount of wealth is my new mission. It brings me great joy to know that I can help others achieve their financial dreams.
Which is why I have kept the cost to join Profits Unlimited at the lowest level possible.
While people have paid me, literally, millions of dollars for my expertise, you don't have to shell out a lot of money.
I've made my money. That's not why I'm doing this.
However, we have to offset the expenses. Which is why I'm giving this service to you for what it costs me and the company that publishes my research to produce it.
Just $199.
Frankly, I believe it's a steal at that price.
The three special reports I've promised you today have a $99 value each and are worth $297 by themselves.
And let's not forget the fortune you could make on the software company that's poised to hand early investors 5, 10, 15, even 25 times their money. Owning shares of this firm could pay for the $199 membership fee within the next two weeks.
Look: I love showing others how to make money. To me, it's so much more rewarding than generating another million dollars for my former Wall Street clients.
But I know many Americans don't have it easy right now ... plus the dollar sure doesn't go as far as it used to.
So to eliminate any and all barriers that could prevent you from joining, here's what I've decided to do...
I want to make a risk-free trial to Profits Unlimited available to the first 1,000 people today for only $47.
That's less than it would cost to take your spouse to Outback Steakhouse.
However ... I know we just met ... so you might be leery about joining my Profits Unlimited research service right now.
And again, I don't want anything keeping you away from these massive gains.
That's why I am going to remove any last bit of doubt you might have about joining me in the next minute.
Give me one year to prove my worth to you. To be crystal clear, I want you to take the next 12 months to review everything I'm giving you access to. Take advantage of my stock recommendations. Profit from as many as you decide to invest in.
And if I don't live up to your highest expectations, simply call the member services team and I promise you'll receive every penny of your $47 membership fee back.
PLUS, you can keep all of the reports you receive to grow your wealth.
If you'd like to join me through the technology revolution ahead (and I hope you do) – and all the best profit opportunities I uncover as they emerge – the best thing to do now is sign up for Profits Unlimited today.
I pledge to you that I will do my absolute best to find stocks on the verge of massive moves that you won't hear about from the mainstream media, or anywhere else for that matter.
Thank you so much for listening to this important presentation.
I sincerely hope you'll take me up on this offer.
I'm confident you'll find that joining Profits Unlimited is the best financial move you'll ever make.
That's because I know the Internet of Things revolution will spawn more millionaires than any event in history ... and I want you to be among the few who will have the opportunity to make a lifetime's worth of gains in a matter of months.
And it starts with the one software company that's at the center of it all.
Those who get in now, on the ground floor, could see 5, 10, even 25 times their money, likely more...
Remember, the tech sector has produced gains big enough to turn $1,000 into $838,833.
But you need to act fast. The speed at which this emerging opportunity is moving will pass by those who hesitate.
Just click on the orange button below this video to get started.
This once-in-a-lifetime opportunity is yours for the taking.
I urge you to take advantage of it today.
I look forward to having you onboard.
Sincerely,
Paul Mampilly
Editor, Profits Unlimited