Dear Reader,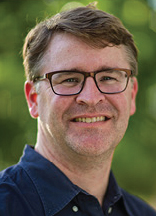 Meet Jeff Opdyke.
He's been called the "Lewis and Clark," "Neil Armstrong" and even the "Indiana Jones" of global opportunities.
Names given to him as he's accumulated more than 3.2 million miles on American Airlines alone — enough to travel the earth more than 130 times — as he seeks out the best stock investments around the world.
And it's paid off in spades.
To date he's generated incredible gains of 192%, 167% and 185% … along with dozens of other double-digit and triple-digit profits. (You will see a laundry list of winners in a moment.)
The vast fortunes he's made have allowed him to walk away from his 17-year career at The Wall Street Journal and say good-bye to his days as a hedge fund trader … in his early 40s.
And as great as these gains have been, the opportunity in front of him right now is much bigger.
Just take a look at what the McKinsey Global Institute reports about this opportunity...

And just like John D. Rockefeller, Cornelius Vanderbilt and Andrew Carnegie made fortunes during the Industrial Revolution, you will have the chance to make fortunes from this economic force that's 1,000 times larger.
I believe you could see gains that will allow you to retire earlier than you ever hoped, the type of gains that will let you buy a new car with cash … and the type of money that will let you jet off to Las Vegas or a clear-water Caribbean Island and splurge.
I'm talking about aiming for gains of 1,000% and above.
It starts with you claiming a free copy of Jeff's book Replay which details 10 stocks that you can buy right now.
These 10 stocks give you the chance to"replay" blue-chip companies similar to Wal-Mart, McDonald's and Johnson & Johnson during their heyday in the '80s.
But … these 10 stocks have even more upward potential as they are in the perfect position to profit from the exploding overseas middle class which grows by 3 million people … per week.
That's 155 million people, every year, who are making more money and spending more money on everything from kitchen appliances to clothes, from cars to houses.
And since the 10 companies Jeff lists in his book Replay cater to this massive middle class that will be six times bigger than the U.S. population, I think each of them could make you a 1,000% winner. (At least.)
Don't get me wrong: Nothing in the market is ever guaranteed. But even if these companies only tap into a fraction of this market, it'd still be enough to change your life.
Hence why McKinsey Institute said this opportunity is 1,000 times bigger than the Industrial Revolution.
Allow me to describe just five of these opportunities:
Replay Opportunity No. 1: Profit from Eastern Europe's "Wal-Mart"

This first opportunity is like investing in Wal-Mart in 1980 and holding on to it until 2005. You would have made a 2,871% gain during that time. Had you got in with $25,000, you could have walked away with $742,750.

That's next to impossible today. But it certainly is possible with this German company that now caters to the expanding Eastern European middle class found in Poland, Czech Republic Romania and over five other thriving countries.

As a bonus, this stock pays a juicy dividend of 4.05%.
Replay Opportunity No. 2: Profit from South Africa's "AT&T"

Buying AT&T in 1980 with $25,000 would have turned into $284,877.

Well, South Africa has a rising star that's similar to the AT&T of three decades ago. It's a leader in mobile telecom — operating in 21 countries across Africa and expanding into the Middle East. Currently they've connected over 230 million people. (That's bigger than the size of the U.S. population in 1980.)

This company offers its customers the same things we expect — including traditional and mobile voice and data, digital and mobile financial services, as well as enterprise services to the public sector and corporate clients. The shocking thing is more people have and want cellphones in Africa than a bank account!

This company's most recent financial report shows sales are up 6.4%. Data revenue is up 33.2%. And the company increased its dividend to a trophy-sized 10.27% annual yield.
Replay Opportunity No. 3: Profit from South America's "McDonald's"

Between the years of 1980 and 2005, McDonald's handed investors a stunning 39,203% gain, turning every $25,000 into $9,800,750.

Of course, that window of opportunity is gone forever.

However, the closest thing to it today is a company based in Buenos Aires, Argentina. It operates more than 2,100 McDonald's stores across Latin America.

But here's the thing — while there is one McDonald's for every 24,000 Americans, in Latin America there is one McDonald's for every 277,000 people. That means there is a LOT of room for this company to grow.

As a bonus, it pays a plum 6.86% annual yield.
"If I Could Go Back in Time to Get Rich,
I'd Invest in..."
It's always fun to think about what we would do if we could go back in time and invest in Microsoft, Apple or Google when they went public.
Microsoft would have turned $25,000 into $14 million.
Apple would have turned $25,000 into $4.5 million.
Google would have turned $25,000 into $367,877.
That's the whole point of Jeff's book Replay, which I am giving to you for FREE today!
You're getting a second chance to play versions of companies we all wish we had the foresight to go all in on.
But you must hurry, as the stocks shown in his book are starting to move.
A few of the people who already have access to Jeff's research love it. Just listen to what they have to say…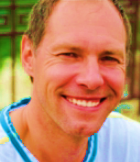 "I made $9,127 in profits from the ESG recommendation. Thank you so much for your valuable help and knowledge." — Louis Sanchez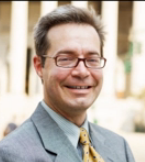 I tripled [my] money on that palm oil stock of yours that [I] bought some time ago and still have. I much appreciate your efforts to do your original research and find unconventional ways. I believe this is the only possible way to invest. So many thanks. — Fred Foster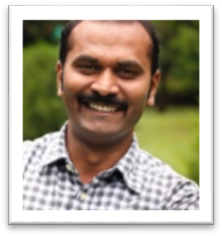 Tong Ren Tang was a big winner, I made $2,875
— Justin M.

In a moment, I'll invite you to join them, if you choose.
Inside your free copy of Replay, you'll also learn about two other incredible companies...
Replay Opportunity No. 4: Profit from Asia's "Johnson & Johnson"

Here's a boring company that could have been a game changer for you. During the 1980s and early 2000s, a $25,000 investment in Johnson & Johnson could have paid you $1,042,000.

While that opportunity is long gone, here's a new way to play an upcoming "Johnson & Johnson." Turns out this is one of the world's largest listed health care companies. And it's based in Malaysia. It's poised to capitalize on Asia's rising consumer spending on health care and the demand for old-age care as Asian societies grow older. This company operates more than 9,000 beds in 49 hospitals across nine countries, and includes medical centers, clinics, and ancillary health care businesses in Singapore, Malaysia, China, Hong Kong, Vietnam, Brunei, Turkey, Macedonia and India. That's just the tip of the iceberg. As you will see, this company is right where the money flows.


Replay Opportunity No. 5: Profit from Asia's "Capital One Bank"

Between 1994 (when Capital One Bank went public) to the early 2000s, you could have scored a 1,556% gain. That would have turned every $1,000 you invested into $16,560.

Now you can get in on the closest thing to it today through this Australian company that's a banking powerhouse, providing services to 15 nations in the Pacific Rim. It's rated the third-strongest bank in the world, compared to the top U.S. bank being No. 39. They're growing at such a rate that they have 159 ATMs in Singapore, while continuing to increase their presence throughout Asia.

As a bonus, this company pays you to hold their stock with a 10.76% dividend yield. On a $50,000 investment, that would pay you $448 each month.
Now these five replay opportunities alone could be your ticket to being set for life.
However, as you'll soon see, your copy of Replay reveals 10 companies you can take advantage of.
So in total, you're getting a treasure chest of 10 stocks that could deliver 1,000% or more … each!
But there's more.
While knowing which companies to buy is key — it's equally vital to know when to sell them.
Most people fail to do this!
Fewer know where to invest the profits without losing them to a future investment.
So while Jeff's book Replay is a giant first-step toward rewriting your financial future — it's critical you stay informed as to when is the best time to sell these 10 plays for maximum profits.
And where to snowball that money next.
That's why, along with this book, I'll be giving you a free three-month membership to Jeff's research service Total Wealth Insider.
A membership includes….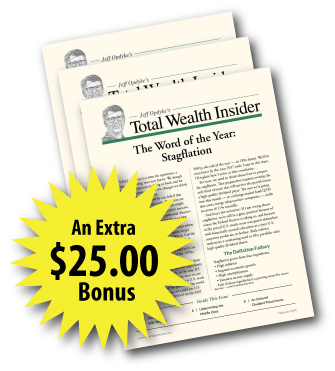 Jeff's Next Three Monthly Briefings

Each month you'll receive a copy of this detailed eight-page briefing in your email inbox and your regular mailbox. Open up your issue of the Total Wealth Insider letter, and you'll discover proven global stocks that you can buy from the comfort of your living room. You will have a better understanding of the financial environment, so that you can invest with confidence.
Access Jeff's Model Portfolio

Another one of your perks will be that you get full access to Jeff's model portfolio. There you can see his positons. Currently, there are 19 in all. It's like getting additional investment recommendations on top of the ones you'll see in Replay. You can trade right alongside them. You'll see what to buy, what to hold, what to sell and more. Jeff's record is outstanding. He recently sold two positions for gains of 192% and 146%. And he currently has two open positions over 125% and six open positions with gains north of 30%.
Trade Alerts

Sometimes news hits or an important buying or selling opportunity comes up between monthly issues of Total Wealth Insider. As that happens, you'll receive a special "portfolio alert" so you know the precise action to take at the moment. It's like having a trusted friend who's looking out for you.
Weekly Updates of Total Wealth Insider

Every Sunday you'll receive by email a weekly update. You'll learn how current events tie into Jeff's trading strategy, and you'll get an update on how the portfolio is doing. You'll also get a glimpse of what's coming down the pike in the weeks or months ahead.
In short, you're getting a complete kit to grow your wealth.
When your FREE three-month Total Wealth Insider membership expires, unless otherwise requested, your membership will automatically renew for a full year for just $49.
Of course, there's no obligation to stick with us past the first three months. So if you decide to end your membership, that's fine. You're in control here. We'll end it right there, and we'll part as friends.
You still come out ahead because you get to keep your copy of Replay (a $29 value) plus your three issues of Total Wealth Insider at no cost.
However, I'm confident that once you see this new exciting way to wring out profits — you'll look forward to each issue of Total Wealth Insider as the profits come pouring in.
Your three free issues of Total Wealth Insider will give you three to six additional investment ideas that could make you money hand over fist.
And it gets even better.
If you're one of the first 1,000 people to claim your FREE copy of Replay, you'll also receive this special report...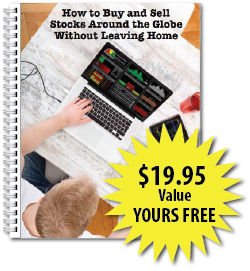 How to Buy and Sell Stocks Around the Globe … From Your Living Room
Until recently, capitalizing on overseas stock markets was something only the uber-wealthy had the pleasure to do. But today, I'm virtually giving you the keys to the money vault.
Inside this report, you'll discover step-by-step exactly how to trade overseas stocks regardless of the size of your wallet. You don't even need a private-banking relationship with a foreign financial institution. Why settle for the losing game of hunting for the next "Wal-Mart" or "Google" out of 10,000 securities on U.S. exchanges, when the whole world can be your oyster? In just one day, you can get in on offshore investing from the comfort of your recliner.
This report retails for $19.95. However, in this special offer, it's yours FREE.
Receive $68.69 in
FREE Value Up Front!
But to get everything, you've got to move fast.
We only have 1,000 hard copies of Replay to give away today.
I can't be sure when, or even if we'll have more copies of this book a week from now — or tomorrow to give away.
So once the last book is taken, this offer is canceled.
That's why it's urgent you jump on this now so you don't miss out on the biggest money-making opportunity of our time.
I wish I could give this book away forever because I truly want to help people get ahead.
However, we're limited in how many copies we can give away.
After all, these are hard-copy, 206-page books that retail for $29, and all we're asking is that you cover the cost of shipping and handling which is $4.95.
That's the price of one Starbuck's Frappuccino.
Yet — this one-time expenditure offers you the chance to make an extraordinary return on your money.
Whether you stick with us longer than the three-month FREE membership is your choice. Either way, you get to keep $68 in value, including the book, Replay, for free.
So no matter what you do — you WIN!
It's Your Complete Tool Kit to
Escape Wall Street's Roulette Wheel
and Retake Control of
Your Financial Destiny
The only question is how big will you win?
This opportunity is more lucrative than anything Jeff has seen in his life. I wish I had the chance to take advantage of something like it many years ago. It could have enabled me to retire sooner with a lot more money.
This is so big —I fully expect I'll receive a storm of letters from readers of Replay telling how these 10 stocks made them life-changing profits.
It's all possible because of the exploding overseas middle class — which grows by 2 million people every day!
With growth like that, you could turn $3,000 into a six-figure windfall by investing in the next Wal-Mart, Johnson & Johnson and McDonald's.
And we'll show you step-by-step how in your free copy of Replay.
On that note — I expect all 1,000 copies to fly off the shelf.
And remember, along with this book, you're getting the overseas trading report, plus three months of Total Wealth Insider. That gives you at least three more stock ideas — plus updates on the stocks mentioned in his book.
Tally it up, and you're getting a complete wealth-building kit worth $68 —and it's yours FREE up front!
This is the moment that could change your financial destiny.
The next step is easy...
Simply Click Here to Review
Everything You Will Receive for FREE Today.
By the way … here is just a quick sample of some of the gains Jeff's readers have collected:
173% and 86% on the Johnson & Johnson Replay
101% on the McDonald's Replay
137% on the General Motors Replay
159% on the American Gas Partners Replay
69% on the Tyson Foods Replay
255% on the Exxon Replay
64% on the AT&T Replay
41% on the Hormel Foods Replay
53% on the DR Horton Replay
86% on the Chevron Replay
80% on the Newmont Mining Replay
79% on the Pfizer Replay
16% on the CVS Replay
38% on the Flour Corporation Replay
29% on the Conoco Philips Replay
72% on the MGM Resorts Replay
65% on the New York Stock Exchange Replay
64% on the Coca-Cola Replay
48% on the Archer Daniels Midland Replay
42% on the Proctor & Gamble Replay