Where to Stash
Your Cash (Legally)
---
New Controversial Book Reveals a $201,600 Tax Exclusion, a "400% Currency," a $5.3 Trillion 401k, a Silent Offshore Bank Account (that You Can Access from Your Living Room), And Over 80 Other Little-Known Wealth Secrets
---
Get Your Copy of This $79 Book
Right Now...FOR FREE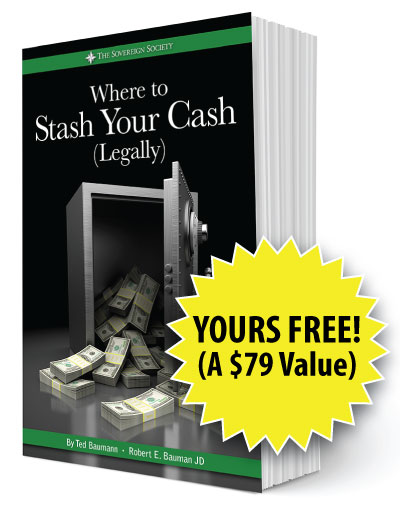 Dear Fellow American,
Imagine having your money stashed away in a private account . . . an account that is far out of the hands of the overreaching government, greedy lawyers, dangerous hackers and even a jarring stock market correction.
Imagine that money automatically growing at an incredible rate (think double digits) . . . tax-advantaged . . . day after day, month after month, year after year.
And imagine using your new money to create the lifestyle you've always wanted. Sipping a margarita in a sunny tropical paradise, cruising Europe in a German luxury car, or perhaps just retiring years younger than you ever thought possible.
The ultra-rich, people like George Soros, Warren Buffett, and Mitt Romney, use their highly paid attorneys and accountants to live this lifestyle.
Until recently, you've likely been told this type of world is too expensive, too complicated and too dangerous for you to navigate.
Well, That's a Lie You
Have Been Sold!
My name is Ted Baumann.
And I am here to reveal that not only is this type of life attainable for you, but that you can achieve it easier than you ever thought possible — no matter your age, income or education.
How?
Well, it starts with you getting a free copy of the best-selling book Where to Stash Your Cash (Legally).
This 584-pager normally sells for $79.
But again, today, right here and right now, you can get it for FREE.
I co-authored this book with my father, Robert Bauman, who also happens to be a retired U.S. Congressman.
My father has personally known every president from Dwight D. Eisenhower to George Bush Sr. As you can guess, he comes with a wealth of knowledge.
He is the author of numerous other books on second passports, Swiss money secrets, lawyer-proofing one's life, offshore corporations and more. His articles and essays have appeared in The Wall Street Journal, The New York Times, National Review and other media outlets.
But this book — Where to Stash Your Cash (Legally) — is his favorite.
As for me, I bring to the table a "boots on the ground" perspective. I've spent my life living internationally studying the secrets of the wealthy so that I could live a sovereign life — a life of freedom and prosperity.
Through my travels to 75 countries and living internationally, I've seen it all.
Here's What's Inside Your
Free Copy of Where to
Stash Your Cash (Legally)
Inside this book, I will introduce you to a little-known world where money is kept safe and private while your returns can often leave the typical U.S. investments in the dust.
This world is filled with asset havens, offshore banking, legal entities and a host of other vehicles that give the uber-wealthy an edge.
A world that has been reserved — up until now — for the top 1% . . .
As mentioned, today, I am going to show you how to cash in on this privileged world so that you too can get all the benefits.
Benefits that have you been kept in the dark on ... benefits such as these...
The $201,600 Exclusion: This will show you how to

make up to $201,600 a year TAX-FREE

. . . it's an amazing legal loophole that also includes a housing allowance. This is not a tax deduction, credit or deferral. It's an "exclusion" for those who are adventurous, think outside the box and that take the necessary steps. (Page 136)
The 400% Currency: You can exchange your dollars for this foreign currency that has appreciated by 400% versus the U.S. dollar dating back to 1971. And, you can do it safely from your cell phone if you would like. (Page 23)
The $100,000 Reserve: Access two $50,000 investments that you could make without the government's knowledge . . . it's profitable, private and completely legal! (Page 175)
The Obama FATCA Sidestep: Get our 5 contacts who use "IAM"s to help you bank internationally despite the intrusive FATCA law passed by President Obama. This FATCA law forced many international banks to ban American savers. Our contacts know how to keep your money more safe, more private and growing offshore. (Page 111)
The Golden Loophole: If you want to store gold, silver or other precious metals overseas there is just one simple step you want to take that allows you to do it so that it is not reportable to the U.S. government. (Page 171)
The Silent Offshore Bank Account: See how easy and quick it is to open an offshore bank account with a few keystrokes. These offshore bank accounts will often let you transfer your money from one currency to the next from the comfort of your living room. If you want to exchange U.S. dollars for the Australian dollar or euros . . . no problem! (Page 89)
The "$5.3 Trillion 401(k)": Do you have money tied up in a 401(k)? In Chapter 2 we show you how to roll it over in a low-fee, professionally managed account. $5.3 trillion has already been transferred over to these types of accounts by people in the know. Now you can do it, too. (Page 109) The Dollar-Proof Life Insurance Policy: We give you the exact information you need to buy a life insurance policy in one of the safest countries of the world that not only acts as inflation protection from a falling dollar . . . but it also serves as an investment vehicle for you. (Page 139)
The International Golden Goose: See how you could potentially scoop up gains for up to 300% by investing in little-known but lucrative companies around the globe — from the comfort of your living room. (Page 22)
Tax-Free Fantasyland:

This clear water Caribbean promised-land . . . exempts your local income tax, capital gains, estate, profit or other forms of direct taxation for your business.

The U.S. dollar is commonly used. And no, it's not The Bahamas or Cayman Islands . . . it's far better! [Page 443]
A Guaranteed Lifetime of Income: The Wall Street Journal called it "the investment vehicle of choice" for those who want to shelter their money from taxes, but we also like it because you can get the rewards of a superior return and diversification. (Page 140)
The 100% Secure "legal device:" This legal device will allow you to protect your wealth from lawsuits, creditors, a vengeful ex-spouse and even a dangerous out-of-control government. We give you our top contact's phone number and email address who can set it up for you for about 75% less than most people will pay. (Page 127)
The Sleep-Easy Vault: Find out why putting your money in certain offshore banks can protect you from lawsuits, civil forfeiture, business failure, divorce, probate and political instability. (Page 25)
The No. 1 Lawyer-Hating Country: It's the best place to put your money in a life insurance policy, annuity, bank or Trust. This country is ranked No. 1 for keeping your assets safe. (Page 144)
As you can see, we hold nothing back in Where to Stash Your Cash (Legally).
Step-by-step, we tell you how to keep your money as private and protected as possible so that you can achieve maximum profits.
You will laugh your money worries away, sleep well as night knowing everything is OK and watch your money grow to levels that were simply not possible using standard methods.
But, here's the most valuable part of our book . . .
You Get Access to
Our Private Rolodex
Perhaps the most daunting part of "stashing your cash" is knowing where to start and who to trust.
That is why we give you our personal Rolodex of more than 30-plus professionals. These are people we have known for years.
We trust and use these people, and so can you.
Just let them know "The Baumans referred me" and they will treat you like royalty, giving you the best prices and the highest quality of service.
But. . .
We Want To Be By Your Side
Every Step of the Way
The laws are always changing. . .
Overreaching politicians and greedy attorneys are always cooking up new schemes to make the rules more restrictive and to find ways to take what you worked so hard for. New threats are emerging right now that could strike with little to zero notice.
So while our book Where to Stash Your Cash (Legally) is a giant first step toward helping you attain the sovereign life — a life of freedom and prosperity — it's critical that we be with you every step of the way.
That is why, along with this book, we will be giving you free access to our exclusive club Sovereign Confidential for the next 3 months.
Here's what your free 3-month membership to Sovereign Confidential gives you. . .
Our Next 3 Monthly Newsletters
Every month, you will receive a 16-page printed newsletter mailed directly from my house to your house. In that newsletter I go unfiltered. I tell you how to achieve BOLD freedom and ROGUE prosperity.
Weekly Updates
Every week — rain or shine, no matter if I am in my home in Atlanta or traveling to an exotic paradise island — I will send you a personal email. Sometimes these are critical updates about a new law that was passed like when I wrote about the government's "Crackdown on IRAs" and sometimes it's just me venting like when I wrote about Obama's recent tax proposal.
A 50% Discount to Our International Conferences
Every year, we hold 2 to 3 exclusive conferences — sometimes on a beautiful Caribbean island, other times it will be in Switzerland or even Uruguay. No matter where we will be this year, you are invited to join us and meet our Council of Experts one-on-one, as well as other folks like you who are savoring the sovereign life.
Daily Updates
You will also receive daily updates from Sovereign Investor Daily. These emails come from me along with a host of other contributors to help you navigate day-to-day issues for investors and savers.
Superior Customer Service
If you ever have any questions about the Sovereign Confidential service, just give my customer service team a call. There are more than 50 friendly representatives who are ready to assist you.
When your 3-month membership expires, upon your approval, your membership to Sovereign Confidential will automatically renew for a full year at only $79.
Of course, there is no obligation to stick with us past the first 3 months. If you decide to end your membership, just send us an email. And we'll part as friends.
It's that easy.
And it's an incredible deal when you consider everything we are sending you for free today!
But Wait ... There's More!


Stroll into Our
Vault of Secrets
If you are one of the first 1,000 people to get a copy of Where to Stash Your Cash (Legally) for free today, we will also allow you to virtually walk into our vault of secrets.
Within the next few minutes you will be granted unlimited access to the 46 incredible reports that we have already published and includes secrets such as ...
How to Earn 18 Times More Interest
Five Affordable Offshore Strategies for Less Than $3,000
5 Countries That Offer Quick Residence in Only Months
How to Avoid Scams, Frauds and Swindles
How to Protect Your Gold From the Government
3 Crucial Steps to Protect Your Wealth
The New World of Offshore Private Banking
Escaping the Matrix: A Privacy-Protection Guide for Our Brave New World
How to Beat the Great Wealth Grab
How to Protect Your Dollars With a "Dirt Bank"
Become Invisible to NSA Snooping
The Plan to Beat the Taxman
Harvesting Income Under the Southern Cross
Just one of these reports could profoundly improve your status in life. But you're getting all 46 for free!
Your Free Stash Your Cash Package
is Valued at $1,000
But we only have 1,000 free copies of Where to Stash Your Cash (Legally) to give away.
I can't be sure when, or even if, we'll have more copies a week from now or even tomorrow, so it's important that you act quickly.
Trust me . . . we would love to give away more. . .
But as you can guess, giving these books away is a major sacrifice for both my father and me.
The book normally retails for $79, and all we are asking is that you cover the cost of shipping and handling which is $7.95.
RIGHT NOW Is Your Last Chance to Create
Your Life of Freedom and Prosperity!
I've seen thousands of people, just like you, already take this next step successfully.
They're people at all levels of education, wealth and age. But they did it. And it was easier and quicker than they thought possible, thanks to the tools we equip them with.
Right now you're only one click of a button away from accessing these tools to start your sovereign life . . . a wonderful life of more freedom, more power and more profits.
Just one of these secrets could save you thousands of dollars in unnecessary taxes. . .
Or financial ruin from a lawyer sizing you up.
And just one of these secrets could help you become financially set, for the rest of your life!
It's all here, waiting for you.
But not for long.
That's because I expect all copies of Where to Stash Your Cash (Legally) to be gone shortly since we're giving it away for free.
So claim your copy now before someone else does.
Stay Sovereign!
Ted Baumann
Editor, Sovereign Confidential