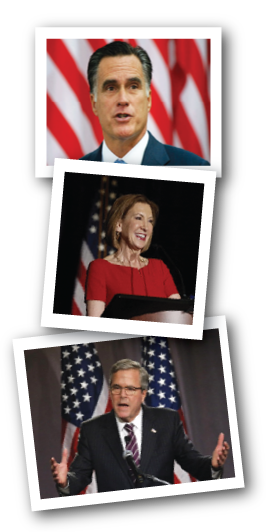 How to Claim Your First "Freedom Funds" Payout in Just 30 Days

Dozens of Elite, From Jeb Bush to Carly Fiorina to Mitt Romney, Are Earning up to $36K per Month in "Freedom Funds." Some Savvy Americans Have Begun Collecting Checks From This "Privileged" Income Stream. Now You Can Join Them…
Dear reader,
I want to let you in on a secret.
It involves a remarkable investment that could provide you with a perpetual flow of income for the rest of your life.
It's the same investment former governor of Florida and former presidential candidate Jeb Bush tapped to earn $408,000 … an average of $34,000 per month.
Just take a look at his tax return…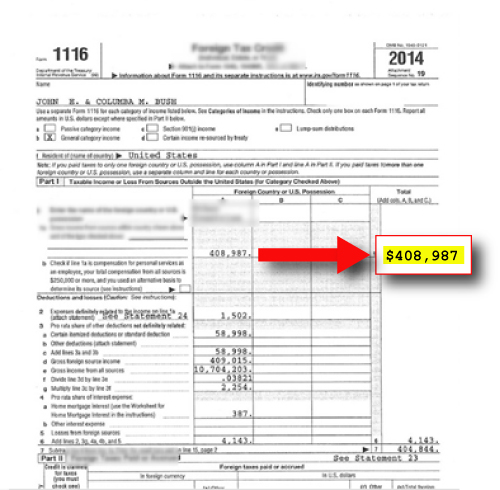 And he's not the only former presidential hopeful collecting fat checks…
Carly Fiorina, former Hewlett-Packard CEO, used this secret to generate $439,000 … that's an extra $36,583 each month.
It's right here on her tax return…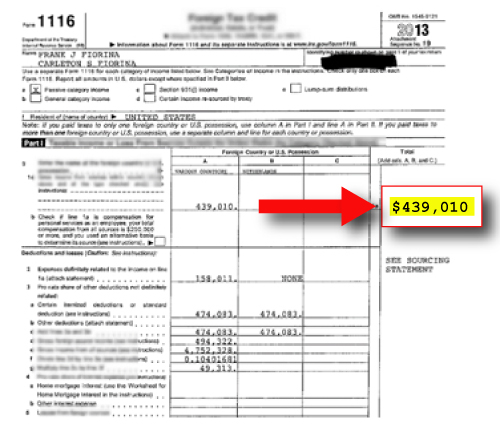 And during his run for presidency, former Massachusetts governor Mitt Romney plowed money into this investment and pocketed a staggering $3.5 million … that's over $290,000 per month.
Take a look…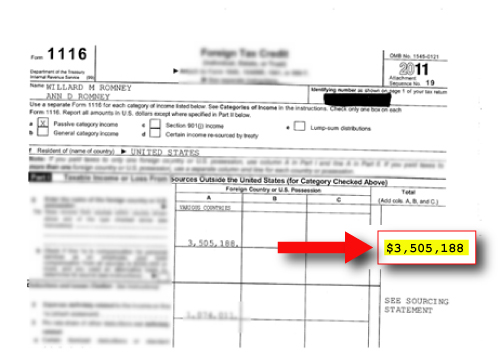 And while most people won't collect as much cash as these former presidential hopefuls, there is a way to collect as much as an extra $375 to $1,790 each and every month by following in their footsteps.
In an era when millions of Americans at or near retirement age fear there will be drastic changes to Social Security, are getting hammered in the stock market and have run out of safe, inflation-proof ways to boost their income…
The timing for what we call "Freedom Fund" payouts couldn't be better.
Unlike traditional income sources, Freedom Funds offer:
A steady stream of monthly checks — up to $1,790 every month…
Yields as much as 25 times higher than regular bank CDs and Treasurys…
The potential for double-digit gains each and every year.
Already, some American retirees have begun taking advantage of this unusual investment…
Louis Sanchez says…
"I made $9,127 in profits."
Fred Foster tells us…
"I tripled my money. I believe this is the only way to invest."
And Justin Marks tells us…
"A big winner, I made $2,875."
To be clear, this income stream has nothing to do with a traditional fund like a mutual fund or ETF … it doesn't involve selling options, buying bonds or locking yourself into an annuity.
And as I'll show you, Freedom Funds share a unique, but highly profitable characteristic: They are insulated against the volatility in the U.S. stock market.
Meaning you can collect an extra $375 to $1,790 each and every month — a total of 32 checks over the next year — no matter what happens on the NYSE or Nasdaq.
Now, how much you collect really depends on your personal situation.
But to give you an idea…
According to Dr. James W. Wansley, of The Journal of Financial Research, one historic example of these Freedom Funds paid participants dividends an average yield of 21% for 180 years.
While this particular income stream is closed to new investors, there are 7 Freedom Funds that are currently open to the general public.
In this letter, I'll tell you all about them. I'll also show you how you can tap into each of these funds for payouts of:
Fund 1: Collect $460
Fund 2: Collect $700
Fund 3: Collect $1,790
Fund 4: Collect $375
Fund 5: Collect $425
Fund 6: Collect $600
Fund 7: Collect $1,140
By getting started today, you could earn as much as $7,500 to $18,000 in the next year alone ... a total of 32 checks delivered right to you. Again, how much you collect is up to you.
Before I get to that, let me give you a bit of background…
Because it's important to see how investing legends like Warren Buffett (worth $66 billion) … George Soros (worth $23 billion) … Jim Rogers (worth $300 million)…
And many other uber-wealthy investors have made their fortunes…
The Birth of "Freedom Funds"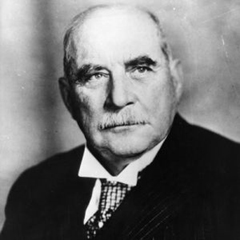 The opportunity we call Freedom Funds was created in 1927 … by J.P. Morgan's son.
Having received billions of inheritance money from his father — one of the original robber barons — John "Jack" Pierpont Morgan, Jr. continued to grow that wealth … but in 1927, he could see the market was starting to bubble.
Indeed the stock market had already run up 50% in just two years.
Yet, if he were to pull his money out of the market … and that of his father's wealthy friends … they would call him insane and take their money out of his bank.
But they needed gains — they needed income.
So, Jack created a new vehicle … a Freedom Fund.
And within months, Jack and his wealthy friends were able to move money into investments that:
Pay high income.
Are immune to inflation.
That can go up in value — even if the US market goes down.
Yet even to this day, the fact remains that very few Americans know these Freedom Fund payouts exist.
I believe there are two reasons why most people aren't aware of this opportunity…
First, Freedom Funds aren't paid by U.S.-based corporations. They are paid by global companies with a long history of paying safe, stable income that trumps the returns of "safe" income investments found on the NYSE.
But, to be clear, you can easily tap into these investments using a brokerage firm.
Second, because they are only collected from companies beyond the Dow — most brokers don't know how to take advantage of them.
As CNN Money pointed out: Collecting these payouts can be done, but it's not "an easy task."
However, we've uncovered a simple way to have payouts from this opportunity sent directly to your brokerage account.
In fact, we've uncovered 7 "funds" that have the potential to send payouts of $375 to $1,790 starting in the next 30 days.
Again, politicians, CEOs and billionaires have collected massive monthly payouts from these "funds" for nearly 90 years.
Today, we're going to let you in on their secret, and show you how to begin tapping this income-stream for monthly payouts of up to $1,790 … while drastically reducing the overall risk in any portfolio.
I'll show you how to claim your first potential payout in a moment.
First, let me introduce myself and show you how it's going to work…
Collect An Extra $18,000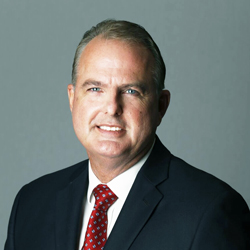 Hello, my name is JL Yastine.
I've spent over 20 years in the financial industry, analyzing why some stocks are great investments and other don't pan out, in a career that's taken me through the doors of some of the most influential firms in the country. I've met and interviewed Warren Buffett, Frank Perdue and Michael Dell — to name a few.
Today, I am editorial director at The Sovereign Society, a boutique research firm with no relation to any outside organizations. Our recommendations are based solely on independent research and years of in-the-trenches experience.
Now, over the years, I've seen more than my fair share of get-rich-quick schemes cross my desk. And I must admit, I was skeptical when I first heard about these Freedom Fund payouts.
But our team has spent thousands of man hours researching this opportunity. And what we've discovered is that not only is this opportunity very real, but it could also double, triple, even quadruple, your monthly income.
In all, we've identified 7 Freedom Funds … that could catapult your income each and every month.
Let's get right to it…

Freedom Fund No. 1......5.50% Yield
Your Expected Payout...$460
This $3 billion Canadian clean energy company pays a hefty 5.50% dividend, but it gets better…

Unlike most companies, this firm sends its shareholders checks every month. That means you'll get 12 checks from this company over the next year alone.

With oil and the energy sector taking a beating over the last year, this thermal, wind and solar energy company has jumped 22%.

Freedom Fund No. 2......9.20% Yield
Your Expected Payout...$700
This opportunity enables you to collect massive 9.20% payouts from the private banking capital of Asia: Singapore.

It's a real estate company that operates high-tech and specialized industrial properties. By law, this firm is required to distribute 90% of its net income in the form of dividends to its investors.

Singapore is one of the most stable — and valuable — real estate markets in the world, because its government won't let speculators buy property and hold it.

Freedom Fund No. 3......13.70% Yield
Your Expected Payout...$1,790
This Australian health-food company pays an amazing 13.70% dividend — nearly four times higher than the S&P stocks.

A dividend that has grown over 250% over the last four years.

It is one of Australia's largest almond growers and while this firm's stock is up 100% in recent years, growth is expected to surge as droughts in California have sent demand for this valuable nut through the roof.
These three Freedom Funds are available for you to tap into right now … and there are four more I'll tell you about in a moment … so you can collect huge income checks … that are up to five times the average S&P stock.
Just look at all the checks you could collect over the next year…
MONTH
NUMBER OF CHECKS
TOTAL PAYOUTS
April
2
$2,250
May
4
$2,900
June
3
$1,260
July
1
$460
August
4
$2,725
September
2
$835
October
3
$2,850
November
3
$2,300
December
3
$1,260
January
2
$1,160
February
2
$1,600
March
3
$1,260

32 Total Checks!
And with current yields in traditional income investments paying close to nothing, it makes sense for smart investors to look for alternatives.
That's why we believe adding Freedom Funds to your retirement account is a no-brainer.
But you'll need to act fast…
Income-Seeking Investors Are Under Attack!
While interest rates on bonds, CDs and money markets still remain near zero … even after the Fed "bumped" interest rates at the end of last year … we have reason to believe income seekers are about to get decimated.
Here's why…
As CNBC reports: "Fed Chair Janet Yellen has at least opened the possibility of the Fed following in the steps of some of the worlds other central banks in moving policy rates into negative territory."
Yes, we could have negative interest rates here in the United States later this year.
Imagine a bank that "pays" negative interest rates. A bank where depositors are actually charged to keep their money.
I know it's hard to fathom, but it's already a reality in Japan, Sweden and Denmark.
What does it mean?
It means retirees who rely on banks to safeguard and grow their money will be annihilated.
Which is why now's the perfect time to get out of CDs, money markets and Treasurys … and put this Freedom Funds strategy — a global strategy that commonly invests in dividend stocks, but can also include anything from global real-estate to a foreign currency ETF — to work for you.
It's all detailed in our new report…
Freedom Funds: The Billionaires' Off-The-Grid Income Stream.
I'll show you how to get this report FREE in just a moment.
First, here's why adding Freedom Funds to your retirement account could be the smartest move you ever make…

Advantage No.1
HUGE YIELDS
Unlike many companies that have slashed their dividends, these Freedom Funds want to pay you more every year. It's like getting an annual raise.
How big a raise?
Right now, several of these funds are dishing out checks that pay five times more than U.S. Treasurys.
There's really no better investment vehicle out there than Freedom Funds to escape the low-interest-rate environment here in the States.

Advantage No.2
INCREASED SPENDING POWER
Unlike traditional income investments like bonds, CDs and preferred stocks, these payouts actually jump higher — automatically — when the dollar loses value.
In other words, thanks to the workings of the global exchange system, as the dollar loses spending power — the real value of your dividends will be worth more and more — even if the actual payout never rises.
It's like getting an automatic cost-of-living increase.
This is important, because if you're one of the more than 65 million Americans who collect Social Security or Supplemental Security Income (SSI) benefits … I'm sure you already know there will be no increase in 2016.
But with Freedom Fund payouts, it's not unusual to see a boost of 4%, even 14%, in a single year or two.

Advantage No.3
MASSIVE CAPITAL APPRECIATION
Unlike the U.S. market which is in a massive bubble that's starting to burst — it's already down over 10% this year alone — these funds can be immune to the volatile U.S. market.
You see, these investments are in markets where:
Economies are booming.
GDPs are surging.
Consumer demand is white-hot.
When you find one of those markets, you can practically throw darts and hit profit targets over and over again.
And because Freedom Funds are selected from a large universe of big, stable multinational companies, they automatically maximize your diversification. It actually REDUCES your overall risk far more than if you only own shares in U.S. companies.
You'll learn all about this powerful income stream in our new research report: Freedom Funds: The Billionaires' Off-the-Grid Income Stream.
This detailed report explains exactly how to get started now so you have the opportunity to collect 32 checks over the next year. And I'd like to send it to you immediately, free of charge.
The Secret to Investing
Like A Modern-Day Robber Baron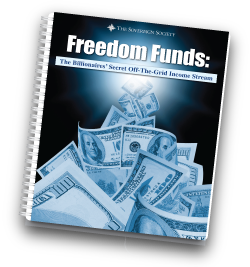 In Freedom Funds: The Billionaires' Off-the-Grid Income Stream, you'll learn how to start collecting these payouts — so you can thrive through the zero-interest rate era ahead…
Because you'll need a new financial plan … you'll need investments that will outpace inflation.
And I can think of no better opportunity than the one before you today.
Again, Washington elite like Jeb Bush collect $34,000 per month … Carly Fiorina pockets $36,500 each month … and Mitt Romney collects over $290,000 every month.
And Freedom Funds are also wildly popular among billionaire and millionaire investors like Warren Buffett, George Soros and Jim Rogers.
Now it's time for you to start tapping into this remarkable income stream.
Mainstream media is starting to catch on too, as The Wall Street Journal recently reported: "The average investor should have somewhere between 30% and 40% of their equities in [Freedom Funds]."
And that's why dozens of high-profile politicians … and powerful groups, like the Harvard Endowment Fund, have aggressively accumulated millions of dollars' worth of Freedom Funds.
As you may have suspected, many of these privileged investors get access to critical information FIRST — knowledge that is rarely shared with the general public.
And that's part of the reason why so few Americans have been able to follow their lead.
But starting today, you can tap into the same type of investments that have helped enrich some of the most powerful members of Congress, right from an online brokerage account…
And turn a relatively modest sum into a gushing stream of income that could ultimately yield thousands of dollars a year — depending on your initial stake.
For instance, you can also tap into…
Freedom Fund No. 4.....3.45% Yield
Your Expected Payout..$375
Freedom Fund No. 5.....4.30% Yield
Your Expected Payout..$425
Freedom Fund No. 6.....3 .23% Yield
Your Expected Payout..$600
Freedom Fund No. 7.....7.14% Yield
Your Expected Payout..$1,140
It's worth noting, too, that more than two-thirds of the world's publicly traded companies are outside the U.S. That means investors who look beyond the Dow have three times as many investment possibilities to choose from.
Think about it.
You drink coffee from Brazil. You have a television made in South Korea. You wear a watch made in Switzerland. You wear clothing made in Italy. It makes sense you're a customer of these businesses.
Now it's time to own the best of them as a shareholder.
And in Freedom Funds: The Billionaires' Off-the-Grid Income Stream, you'll learn all about them. You'll also discover:
A step-by-step guide to collecting $375 to $1,790 a month in monthly dividends.
Why these investments often move independently of the S&P 500. This means that Freedom Funds are often moving up when the U.S. stock market is moving down!
How you can mimic the moves of Washington insiders and billionaire elite — who've been exploiting this unusual income source for years — through your online brokerage account.
Every detail you need to get started now and receive 32 of these unusual dividend payments over the next 12 months.
It's all in your FREE copy of Freedom Funds: The Billionaires' Off-the-Grid Income Stream. You'll get this research, at no cost to you, when you take a no-risk, trial subscription to Total Wealth Insider — our monthly research advisory.
Before I tell you about our firm and the research we do, it's important you understand that this is a critical time in your life.
You have two choices: You can…
Do nothing … just pretend that no Social Security increase and the near-zero interest-rate environment we live in will have little effect on your ability to live the type of retirement that you deserve. Or…
Get ready to considerably boost your income! You can position your wealth now — so that no matter what boneheaded move the Federal Reserve makes next, you are in a position to generate more income than you've made in the last five years.
Again, this is not a time to be complacent and risk your financial security.
With current yields on traditional income investments paying close to nothing, you owe it to yourself and your family to make the right moves today.
And as concerned as we are about showing you how to make more money, it's not our sole focus. We also want to ensure that you don't lose the money you already have.
That's why we'd like to send you a second free report right away.
WARNING:


Dump These "Safe" Stocks NOW!
Right now, many well-known investors and renowned economists are calling for a major stock market crash.
Billionaire investor George Soros, for example, recently said: "When I look at the financial markets [it] reminds me of the crisis we had in 2008."
Swiss investor Marc Faber predicts the stock market will plunge to 2011 levels: That's a 40% drop.
International investor Jim Rogers warns that: "There will be a lot of turmoil in the financial markets, eventually leading to some sort of crisis, perhaps even a full-blown crisis."
And while many of the traditional "safe-havens" like Treasurys, muni-bonds, and corporate bonds are all financial death-traps…
Our team is sounding the alarm bells on the most popular investment among retirees.
More specifically, supposedly "safe" stocks trading on the New York Stock Exchange and Nasdaq.
We've compiled a list of the top 10 "at-risk" stocks so you can shield your portfolio from the coming devastation.
We'll tell you the specific companies you should avoid like the plague right now in another FREE report we'll send you when you sign up for your risk-free trial to our monthly research advisory, called Total Wealth Insider.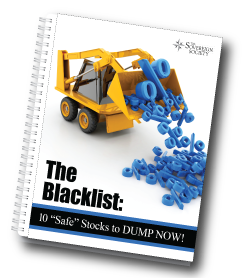 Your second free report is The Blacklist: Ten "Safe" Stocks to DUMP NOW!
In it, you'll learn:
Why a major retailer that's been in business since 1886 — with 735 stores and nearly 200,000 employees — is on the cusp of becoming obsolete.
Why it's critical you avoid this 110-year-old, Connecticut-based office equipment firm that's paying a hefty dividend at all costs.
Which electronics company, with 500 million outstanding shares and over 6,000 employees, could soon declare bankruptcy.
Sign up for your risk-free trial subscription to Total Wealth Insider today, and we'll rush you a copy of The Blacklist: Ten "Safe" Stocks to DUMP NOW! immediately.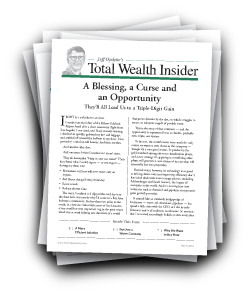 You see, as important as it is to grow your wealth and boost your income, it's also critical that you protect the wealth you already have.
And we'll show you exactly how to do that as a new Total Wealth Insider subscriber.
When you take a trial subscription to our research advisory, you'll receive:
12 issues of Total Wealth Insider. This exclusive research advisory includes a monthly, 8-page private briefing. Each issue is packed with alternative investment recommendations ready to soar and turbocharge your income. We also stay on top of global trends that can catapult your wealth and put a small fortune in your account. It's written with a level of depth, research and analysis you would expect of a writer (whom I'll introduce you to in a moment) with 17 years at The Wall Street Journal.
Freedom Funds: The Billionaires' Off-the-Grid Income Stream. In this special report, you'll find everything you need to know so you can boost your income … by tapping into the opportunity legendary investors Warren Buffett, George Soros and Jim Rogers all use to create an off-Wall Street income stream. These investments can soar when traditional income streams get pummeled.
The Blacklist: Ten "Safe" Stocks to DUMP NOW! Many of the most popular "blue-chip" type stocks trading on the NYSE have become financial death-traps. And millions of retirees will be devastated as these stocks unravel. But we've put together a top 10 list of the stocks to avoid at all costs so you can avoid the coming carnage.
At The Sovereign Society, we believe everyone should have the opportunity to achieve great wealth.
If you're an investor, the amount of money in your account shouldn't hinder the quality of investment research and recommendations you receive.
In short, everyone striving to amass great wealth should have the opportunity to do so.
And Total Wealth Insider is a great way to level the playing field so individuals like you can get rich.
You see, we specialize in finding off-the-radar investments with two primary objectives: 1) Generate massive yields, and/or 2) Produce market-trouncing gains.
It's that simple.
Even now, as the Dow swings wildly up and down, our model trading portfolio is sitting on a dozen winners … a few include…
164% on a gold investment…
32% on a telecommunications firm…
142% on a Canadian exploratory company…
30% on an unusual bank…
40% on an Australian financial firm...
It's no fluke.
But, as you can imagine, finding opportunities like these takes time and exhaustive research. In fact, it often takes our team of experts three to six months to identify the next investment we believe is destined to make our subscribers remarkable returns.
Our team is led by Investment Director Jeff Opdyke.
Jeff has worked as a trader at a successful hedge fund, spent 17 years at The Wall Street Journal as an investigative financial reporter and has written 7 best-selling personal-finance books.
But it's the decades of in-the-field experience Jeff brings to The Sovereign Society that will deliver you results every month in our fast-paced monthly letter called Total Wealth Insider.
Many of our readers rely on Jeff's expertise and guidance to help them make investment decisions and plan for retirement.
They're people like Lenny Silver, from Palm City, Florida, who writes:
"I find Jeff's research superb and usually right on the money. Here are some results from my account: Income from equities — $7,424 … Income from Parkway Life Real Estate and Lippo Malls Retail Trust — $7,972. Keep up the good work."
And Jeff Massey, from San Diego, California, says:
"I doubled my money on half and tripled on the other half for a net gain (including a dividend) of $2,875. Your service is excellent and I would recommend [it] to anyone who wants to be active in the markets."
Many more who follow our research firmly believe in the unconventional opportunities we reveal each and every month…
Like Frank Fine, from Charlotte, North Carolina, who says:
"I tripled my money! I appreciate your efforts to do original research and find unconventional ways to make money. I believe this is the only way to invest."
Greg Harding, from Portland, Connecticut, tells us:
"I really enjoy reading your take on where you think the profitable companies are around the world and why."
And Jeff Anderson, from Austin, Texas, writes:
"You are the only newsletter service of any value to me, and I have tried many. I always read your emails as soon as I discover them!"
It's incredibly rewarding to see that our research is recognized so positively by so many of our loyal subscribers.
But our goal, first and foremost, is that our research is used to avoid financial disaster and empowers our subscribers to make life-changing profits from the opportunities that we find.
If you'd like to join us, so we can bring you these opportunities each and every month, I encourage you to subscribe to our monthly letter today.
So how much will it cost to get started?
Well, the normal price of Total Wealth Insider is $197 a year.
Considering you'll discover how to collect an extra 32 checks a year that could easily boost your monthly income by $1,790…
I think you'll agree that $197 is a reasonable price.
But, for a limited time, we're offering you access to all of our research, at the low price of just $47 for one full year.
In exchange for this small sum of money, you'll get: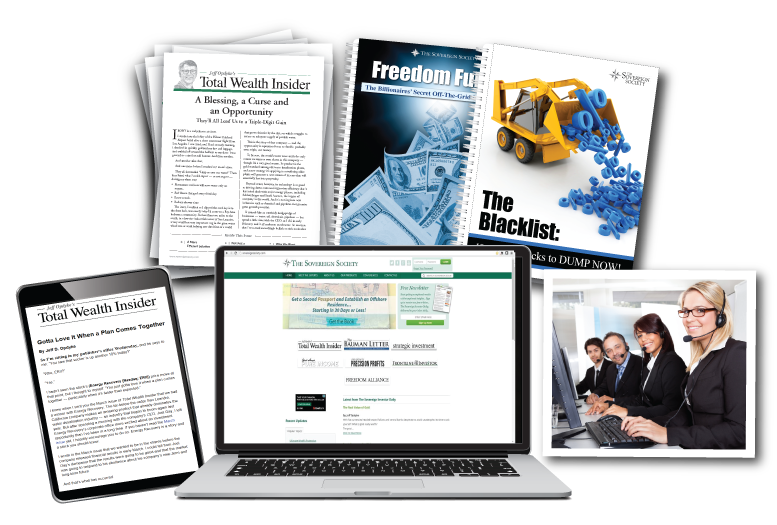 Research Report No. 1: Freedom Funds: The Billionaires' Off-the-Grid Income Stream
Research Report No. 2: The Blacklist: Ten "Safe" Stocks to DUMP NOW!
12 monthly issues of Total Wealth Insider — Sovereign's premiere monthly newsletter — sent to your inbox and mailbox at the beginning of every month.
Plus, you get access to our multi-tiered model trading portfolio that has a handful of buy recommendations ready for you to scoop up within the next 48 hours.
Access to trade alerts via email … the weekly Sunday Total Wealth Insider … access to the encrypted members-only website … and you have a dedicated customer service team to answer any questions.
Actually, if you subscribe within the next 7 days, we'll also send you another FREE report to grow your wealth.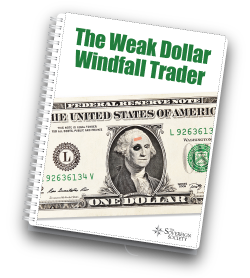 It's called: Weak Dollar Windfall Trades to Make Right Now.
In it, you'll discover why the dollar's rally is coming to an abrupt end … and why it will continue the downward death-spiral it's been locked in for decades. More importantly, you'll learn about a "hated" sector of the market that's going to soar the moment the greenback reverses course.
When it does, when the dollar resumes its freefall … four specific investments are destined to hand you a lifetime worth of gains in just months.
In Weak Dollar Windfall Trades to Make Right Now,you'll discover exactly which investments these are.
And it's yours FREE just for signing up for your risk-free trial subscription to Total Wealth Insider — within the next 7 days!
Best of all, you can review our research and investment recommendations at absolutely no risk or obligation.
This is 100% guaranteed.
You have 1 full year to decide if it's right for you.
If, at any time during the next year, you decide that your trial subscription isn't right for you – simply let us know and we'll issue you a full, prompt refund.
And you can keep everything you've received to that point.
You're either thrilled with our work, or you are eligible for a refund — and you can keep everything with our compliments.
No questions asked.
But please don't hesitate…
While Freedom Funds have been creating huge sums of wealth for politicians and rich investors for years, they have been largely overlooked by the general public.
As a result, most people have missed out on some of the most exciting growth and extraordinary yields on the market today.
But right now, you have a unique opportunity to join them and amass a hefty side-income of hundreds, even thousands of dollars every month.
And this discovery couldn't come at a better time.
According to a recent study by the Insured Retirement Institute, 73% of retirees do not have confidence they will have enough money for retirement.
But while millions of Americans have to cut back on vacations, dinners out and life's little luxuries — like going to the movies and spoiling grandchildren … you'll be able to relax and sleep with confidence that your lifestyle will not suffer one bit.
To get started, simply click here.
Sincerely,
JL Yastine
Editorial Director, The Sovereign Society