How to Tap Into the $2.1 Trillion IPO Boom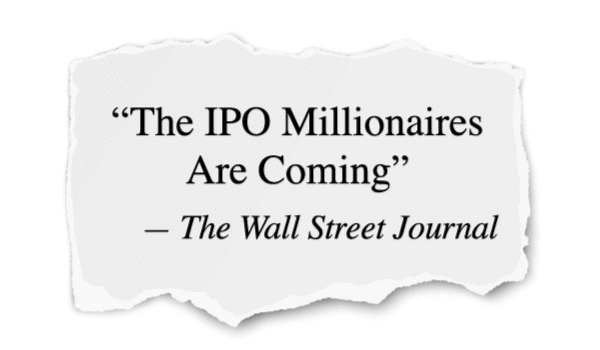 Hi,

I'm Amber Lancaster and I want to welcome you to this exclusive IPO interview.
To any and all early-stage investors...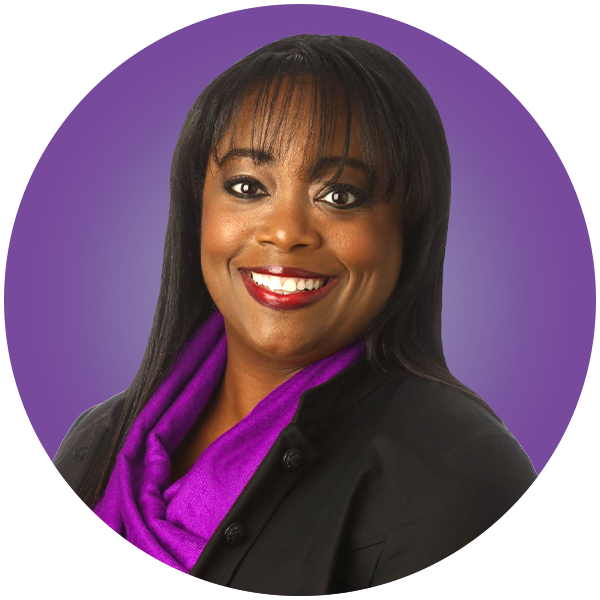 We are in the midst of a historic, once-in-a-generation IPO boom that is tearing across the country…
One that could unleash more opportunity in the next 12 months than investors have seen in the last 12 years.
In the last year alone, 480 new U.S. companies went public … more than at any time in the last 20 years…
With even MORE excepted to hit the market in 2021!
It's a market boom unlike anything we've seen in history…
And for early-stage investors, it represents a once-in-a-lifetime chance to acquire historic wealth.
I had an opportunity to sit down and run through the details with the world's preeminent IPO investor.
In the summer of 2019, he predicted the start of this massive IPO boom before anyone else.
At that time, he said readers would have a chance to see 12 triple-digit gains over the next year.
He hit the mark … and surpassed it.
In year one, he recommended 15 stocks that went on to produce triple-digit gains.
And in his second year, he recommended another 17.
That's 32 separate IPO trades that have gone up 100% or more over the last two years … on average, that's more than one per month!
They've been some of the fastest gains in history.
Some, like CrowdStrike, delivered gains of 189% in just over one year.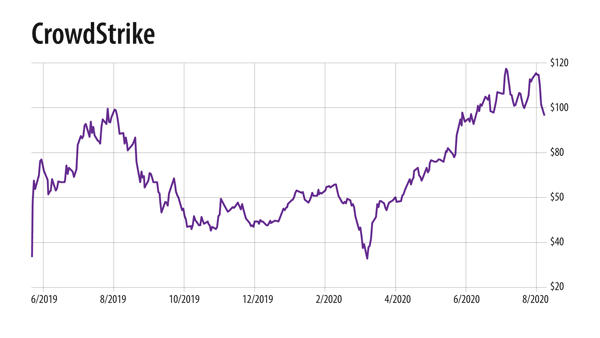 Others, like Inari, brought home 332% in 100 days.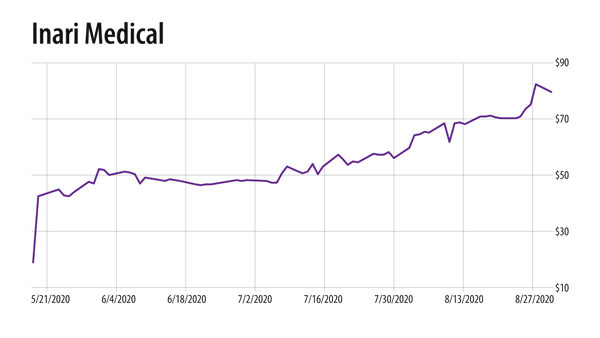 And others still, like Monopar Therapeutics … 400% overnight. Yes, in just one day, readers QUINTUPLED their money.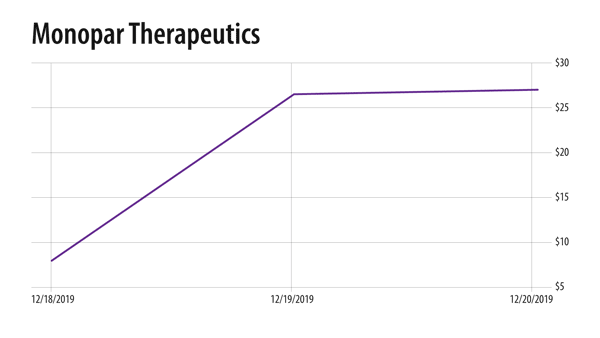 But he says the opportunity is far from over.
Today you'll get to hear from the man himself … the former Wall Street analyst and author who predicted the first phase of this massive IPO boom two years ago.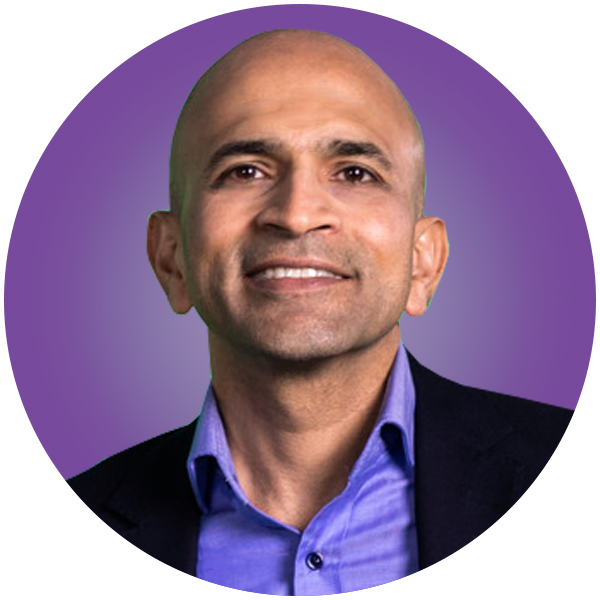 His name is Paul Mampilly.
For the past five years, he has been on a mission to help Main Street Americans ensure their financial success.
He has shared his very best research with readers across his eight research services, bringing them gains such as:
1,718% in less than two years
1,142% in three and a half years
638% in a year
600% in two and a half years
450% in a year and a half
And so, so many more.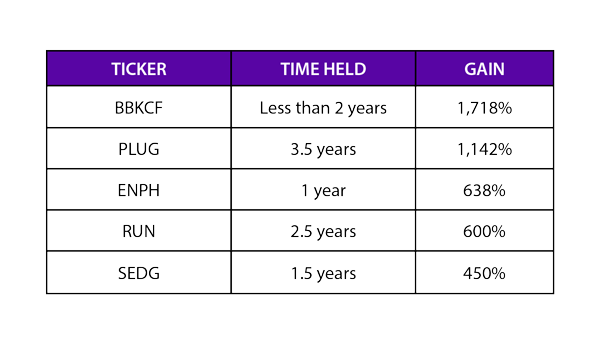 Every day, we receive letters from readers who were able to capitalize on Paul's recommendations and make their lives a little better.
But Paul says some of the best opportunities right now lie in the booming IPO market.
However, you can't go it alone.
You need someone with Paul's expert guidance to separate the wheat from the chaff.
Paul has proven to have such an ability.
Over the last two years, he and his team have closed 133 positions…
With an average gain of 62% in just five months.
Astonishing results, no doubt…
But Paul says the opportunity is far from finished.
In fact, he says it may only just be warming up.
Over the years, I have personally learned NOT to take Paul's predictions lightly.
In February 2016, the market had just suffered its SECOND 10% correction in six months … and Paul predicted the start of a massive new boom that would carry stocks to record highs. History, like it often does, proved him right.
Last year, he was among the first to predict the start of a V-shaped recovery in stock after the recent sell-off.
And of course, he predicted the start of a historic IPO boom well before the rest of the herd.
He says now is the time to take action.
Paul says the next 12 to 24 months could be some of the most profitable of peoples' lives if they invest the right way in this booming market.
The details of our interview are transcribed for you below.
Official Transcript
Amber: Paul, you've had an incredible winning spree with your readers over the last couple of years — targeting major IPO moves with stunning accuracy.
I've got to know your secret … you're picking the RIGHT companies and getting out with some phenomenal gains very quickly. It's like you know every move to make…
Paul: It's been an exciting ride.
And I'm happy to say — we identified the early rumblings of the imminent IPO boom, right at the onset … helping my readers capture some of the greatest windfalls of my career.
Back then, some people laughed at me when I said it would be bigger than the IPO boom in the '90s. But here we are, two years later, seeing the IPO market hit record highs just like I said.
Amber: Let me ask you about some of the recommendations you made in the past couple years for your readers — because truly, these things border on being ludicrous.
Way back in December 2019, you recommended Monopar Therapeutics, a clinical-stage biopharmaceutical company that specializes in improving quality of life for cancer patients.
You caught it the DAY it went public … and within 24 hours, its share price exploded for a 400% gain.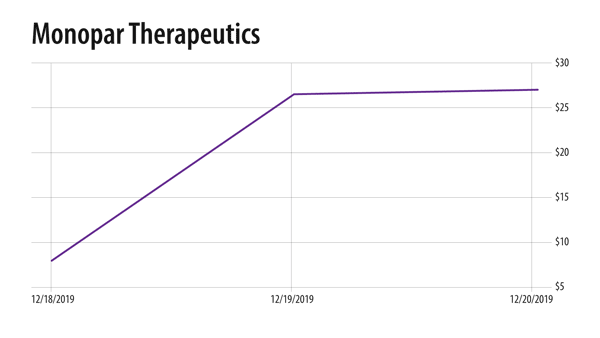 Which means that if had I invested 10 grand in it when you recommend it, I would have turned that into $50,000?
Paul: That's right. Monopar was like catching lightning in a bottle. I knew it would be big, I just didn't know it would be that big or happen that quickly.
Amber: And then, if I have my notes right, you followed that up with a 187% gain in Personalis, Inc.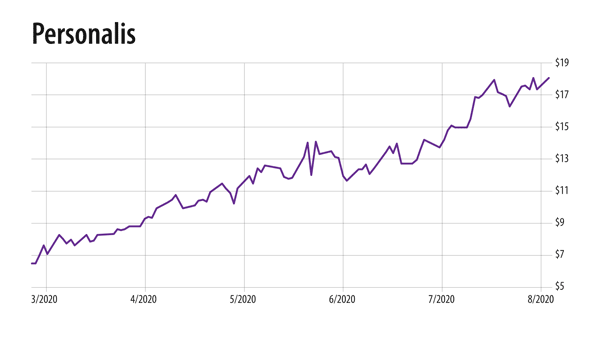 And that was in less than five months?
Paul: You got it!
Amber: And you nailed Inari Medical too — making a 332% gain in just over three months!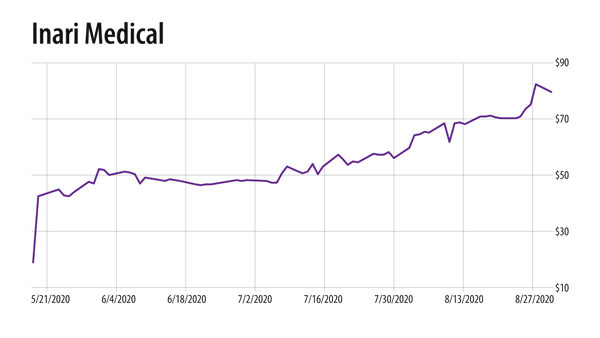 And you recently closed a 149% gain in Airbnb — in just 12 days?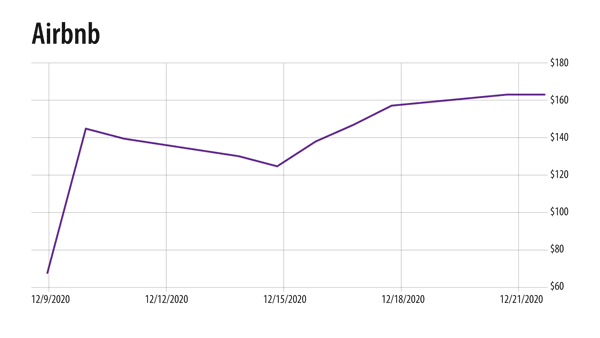 Paul: You've definitely noted some of my favorites.
Amber: Well here's one I was really impressed by — CureVac. CureVac posted a 478% gain in what … 16 weeks?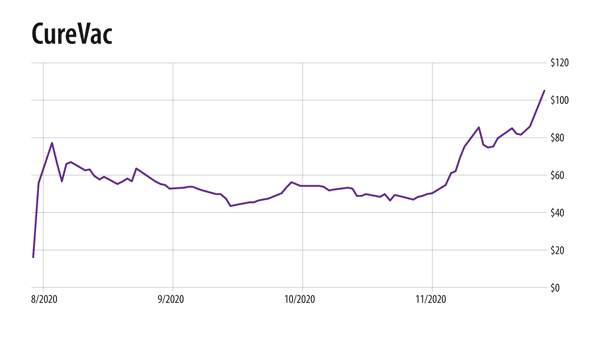 Paul: I really love the fact you mentioned all those. They're some of my favorite wins — I only wish they could all be that big.
But they are a great springboard for what I want to discuss today — because I believe, with 100% conviction, the opportunity ahead of us right now will eclipse all of those.
It will make Monopar, Personalis, Inari, Airbnb, CureVac — all of them are just the "warmup" for the major leagues we're about to embark on.
Amber: Can you elaborate some?
Paul: Well those results were created by something that's never happened before: $697 billion flooding into IPOs. A huge, historic amount of money.
And yet, these are small potatoes…
Because this year, we are staring down the barrel of $2.1 trillion entering the IPO markets.
Amber: You're talking about a capital wave as large as the Biden stimulus package from March.
Paul: We're talking about tripling the capital flowing into these stocks.
I can tell you now, that after more than a year of putting my research through even more real-time testing, I've learned two things:
First, I've truly come to understand how IPOs are different from any other stock.
If you go in unprepared, you might end up throwing a dart at every opportunity on the board and missing the ones that can change your life.
Amber: But you're saying you've found a way to navigate this space.
Paul: I have.
The second thing I've found, is that that there are THREE key metrics our viewers can use to essentially "grade" an IPO.
Now, I cannot emphasize enough how important this is: With hundreds of companies about to go public, you must know how to pick only the best.
With these metrics in hand, you can make a quick assessment … on whether or not an IPO is going to pop … or flop. It's that simple. I've been able to do it for my readers, beating the market 3-to-1 since 2019.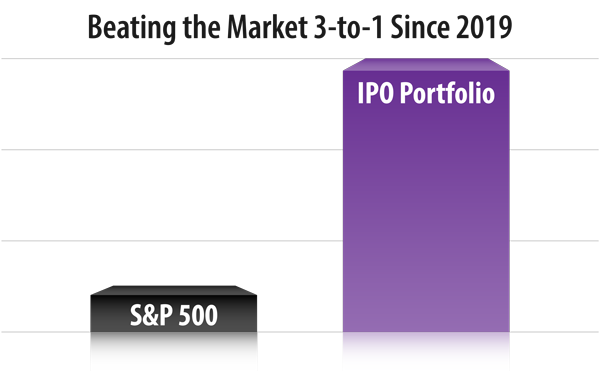 Amber: That's incredible. And you're going to share those three metrics with our viewers in just a moment?
Paul: Absolutely. And I've brought some examples to make sure everything is crystal clear.
Amber: Perfect. But, before we get into all of that … before we get into exactly how you've been so successful picking these IPOs … we should really explore "why now?"
So Paul, why is it paramount people watching now pay close attention?
Paul: I'm going to be very clear: We are witnessing the greatest IPO boom … in history.
We are seeing new, revolutionary, hyperinnovative companies going public … changing the very face of the stock market as we know it.
Opportunities are popping up faster and faster every day as the IPO boom continues to push new, bold, powerful technologies into dominance.
And I fully believe the No. 1 place to be, to grab the biggest, fastest, most consistent flood of America 2.0 profits, is the IPO markets.
It's how we've beaten the market 3-to-1 since 2019.
Amber: Even though I've reviewed these numbers, it still … just blows my mind to see them. These returns aren't supposed to be possible — not realistically. But here you are, with a binder full of proof and letters from readers who participated in these profits. And now, now you're saying it's going to get even better.
Paul: Yes. And the well of opportunity is deep. The market is projected to launch as many as 250 IPOs over the next year. And I am looking to pick the very best ones for my readers.
Amber: And so many are finally waking up to what you've been forecasting, Paul.
Outlets are calling it a "frenzy…" a "stampede…" and even "unprecedented."
Paul: We are in the IPO boom era. It's a stock market renovation — the financial "house" is getting rebuilt with companies like Wayfair, Carvana, Plug Power, Zoom Media … they're the new bedrocks, the new blue chips.
And there are still so many more that haven't even gone public!
Remember — the IPO markets are seeing a surge from $697 billion in capital … to $2.1 trillion. That's a TRIPLING in size.
What we saw over the last few years will pale in comparison.
And now, we're seeing countless opportunities light up across the board. Potentially hundreds of stocks ROARING higher.
Including the three UNSTOPPABLE opportunities I'm going to show our viewers how to access today.
Amber: Paul, I want to pause there for just a moment — because the idea of the top IPOs, these three metrics, the boom we've entered, spearheaded by these IPOs … I mean. You're obviously very excited about it, and so am I. And there's so much ground to cover.
But I want to focus on what you just said: That we are entering a historic period of an IPO boom.
Can you walk us through why you think that? Is it more true now than last year?
Paul: I'm happy to — and the answer to your second question is unequivocally YES. What is dead ahead of us makes the last year look like a drop in the bucket.
It is important everyone watching understands this: We are in an era where "old" companies are being blasted off the map.
New-world companies, companies implementing the most advanced artificial intelligence, 3D printing, automation, genomic sequencing, Big Data, algorithms — they're putting the sacred cows of yesterday's stock market out to pasture.
That's why Wayfair has seen a 1,000% surge in a year … while furniture companies like Pier 1 Imports have filed for bankruptcy.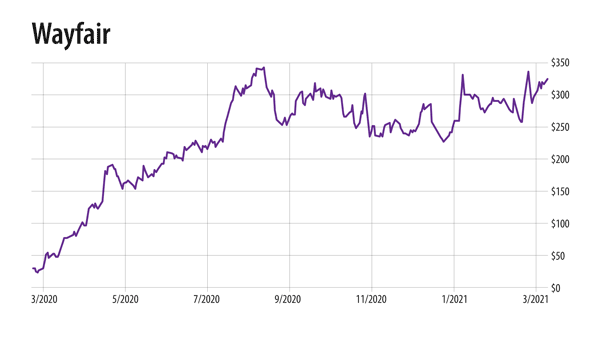 Amber: Right … and the traditional car rental company Hertz recently filed for bankruptcy … while ride sharing startup Turo, now worth over $1 billion, continues to raise funds while preparing for IPO.
And we've recently seen 26 major retailers file bankruptcy in the last year, while Amazon stock has gone from less than $2,000 a share to over $3,000.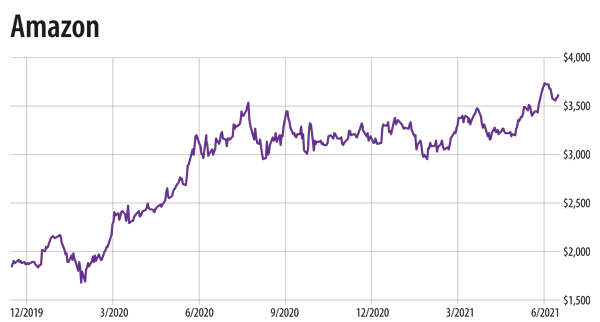 Paul: You can see the gap between these "old world" companies and "new world" companies getting wider and wider every day.
We just saw what was dubbed "the biggest [Dow] reshuffling in seven years."
Exxon Mobil, Pfizer and Raytheon — companies with $450 billion in market capitalization between them — were all booted off the Dow Jones…
Amgen and Honeywell replaced Pfizer and Raytheon.
Exxon Mobil — the longest running Dow stock with a listing since 1928 … was replaced by Salesforce. This is a cloud and software company replacing what has been the largest company in the world.
Amber: Not to mention that the "underdog" of the decade, Tesla, was added to the S&P in December … while Kohl's and Nordstrom were actually dropped from the S&P.
You believe this is all part of this historic IPO boom?
Paul: Absolutely.
The news, the media, they focus on all the wrong things. They distract you. They keep you from seeing the incredible abundance of opportunities right now.
Let me share some facts. Facts you're not going to hear on the news...
In 2020, we saw some of the busiest IPO months of the last 10 years.
We even watched one financial tech company out of North Carolina, produce a 195% gain on opening day of its IPO.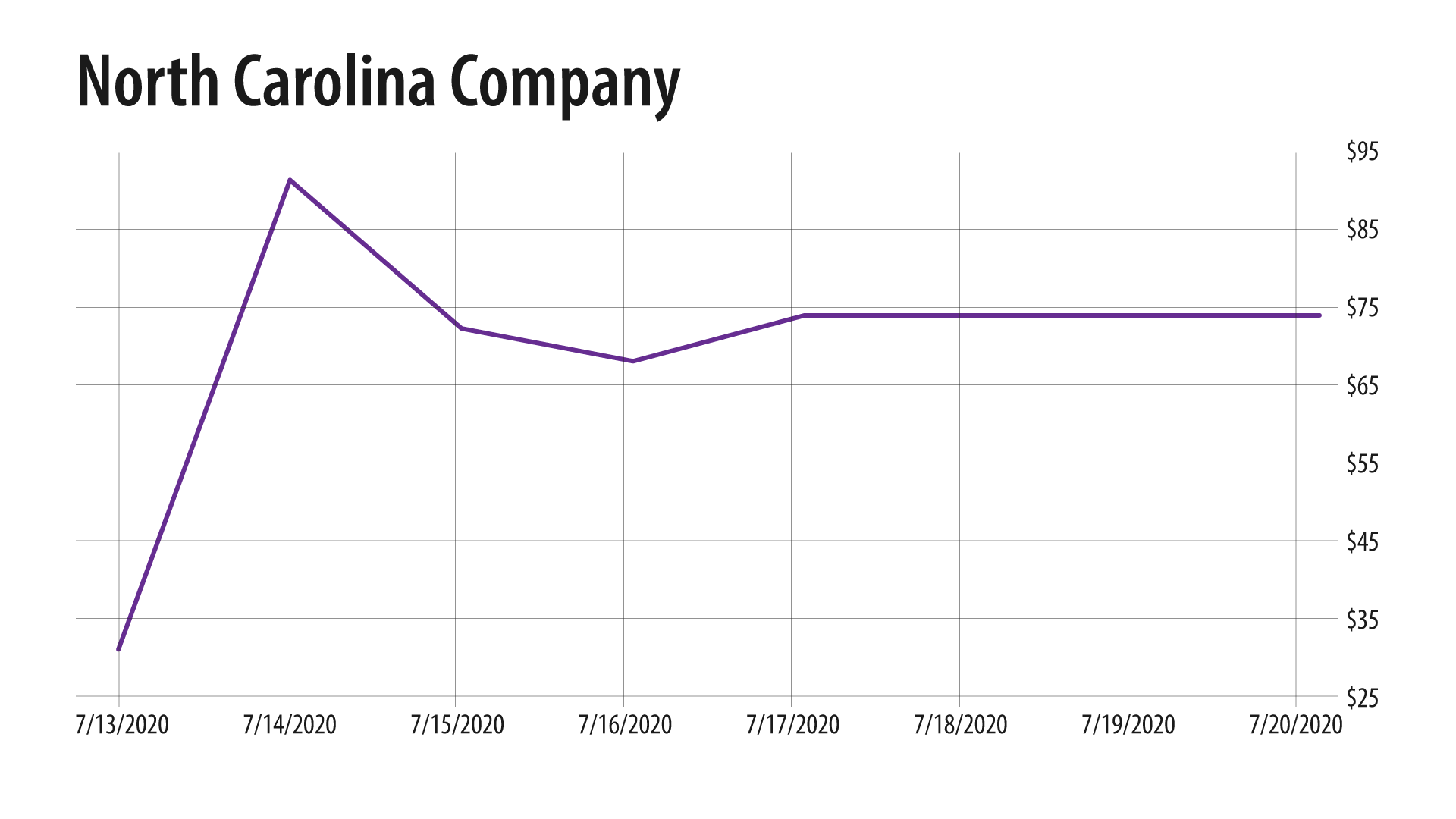 That's the single biggest tech open since the tech boom, and this isn't some Silicon Valley titan — it's a company about two hours from me with massive clients like TD Ameritrade … and it just smashed a two-decade record.
Amber: For our viewers … you should be fully aware that Paul, he's being humble, but he had the foresight and knowledge here to actually recommend this IPO to his dedicated readers. He didn't sell it the day after the IPO, but he knew this company had massive gain potential.
So my point is, Paul, you're not on the sidelines talking about these gains. You're in it, you're making these calls and helping people with the ambition to listen, helping them profit.
Paul: Yes!
But the IPO boom we're seeing today, it goes so much further.
Again — $697 billion … to $2.1 trillion. This is a phenomenal amount of momentum, coming with the force of a meteor.
Right now, there's a historic backlog of companies filing for IPO.
In fact, August 2020 saw nearly double — I repeat, DOUBLE — the number of companies file for IPO as it did in 2019.
Remember — we saw 213 companies IPO in 2020.
And for further proof, just take a look here…
This is the Renaissance IPO ETF…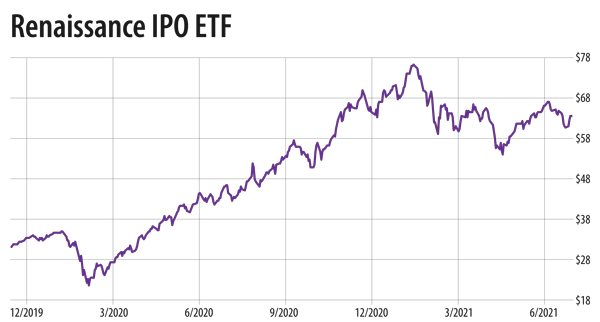 Amber: This is like a fund specifically for tracking the IPO sector? I've never seen this before.
Paul: It is. And see this?
It smashed through an all-time high last year.
There is a skyrocketing demand for these companies to go public.
Because old-world companies are being shaken out and new, revolutionary disruptors driving the America 2.0 era are exploding onto the scene.
Amber: You've mentioned a few times that there are several revolutionary companies entering the market. Can you explain that for everyone?
Paul: I was hoping you'd ask. Think about this:
In 2013, there were 39 "unicorn" companies…
In other words, privately held firms with a valuation greater than $1 billion.
Again, in 2013, journalist Aileen Lee wrote an article about the "Unicorn Club" of $1 billion companies.
There were only 39 of them in the U.S.
By 2018, there were 135.
In 2020, that number surged to over 300.
Amber: That's more than 600% growth.
Paul: A 600% growth in companies valued at over $1 billion. And that's just in the United States. But the opportunity here is even bigger. Internationally, there are over 500 unicorns!
Then there are decacorns, with valuation over $10 billion. And hectocorns, with valuation over $100 billion.
Just think about this: There are only 2,000 companies listed between the Nasdaq and the New York Stock Exchange with a valuation over $1 billion.
If all 500 of the unicorn stocks are listed, they will cause the market to grow by $2.1 TRILLION in valuation. At minimum.
That's like adding Russia's entire gross domestic product to the stock market.
But the shift isn't happening instantly — it's happening gradually as each of these companies continue going public.
Renaissance Capital — the IPO authorities — actually calculate there will be 190 to 250 IPOs over the next year.
Amber: Paul, it's crazy. You always hear about unicorns, and how they're changing the world. But seeing the numbers right in front of me now … it's really outrageous. And it seems like you've been waiting for this VERY moment, as if you knew there would be a period of extraordinary IPO profits and activity way in advance. So, why now?
Paul: Amber, we're entering an era of new-world companies taking over old-world companies.
Companies like Zoom, DocuSign and others are all reimagining the business world in the same way Amazon, Google and Netflix did at the start of the 21st century.
Amber: Those companies have delivered astronomical returns, for sure. Amazon went for the stratosphere — soaring over 129,000% in 20 years. Just think about that gain. That's enough to turn a $1,000 stake into $1.3 million!
Do you believe these types of gains are now possible again?
Paul: I'm going to be completely honest: It's wildly rare to see a stock soar over 100,000%. Plus, they can take years. Aiming for stocks like that requires you to be comfortable with taking on risk and experiencing losses.
However, while hunting down these long-term windfalls like the next Amazon, or Google, or Netflix, we can take fantastic life-changing gains over and over again.
We can grab a 480% on FuboTV in three months…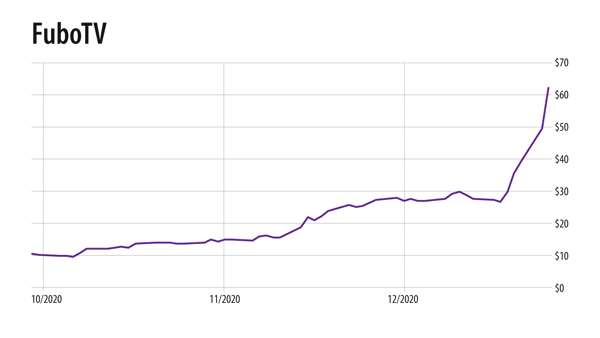 A 127% gain on Accolade in four months…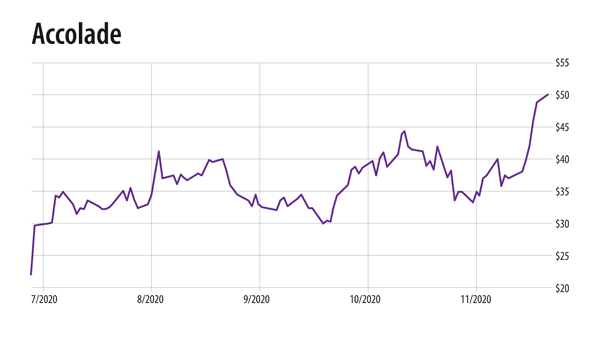 A 302% gain on Berkeley Lights in four months…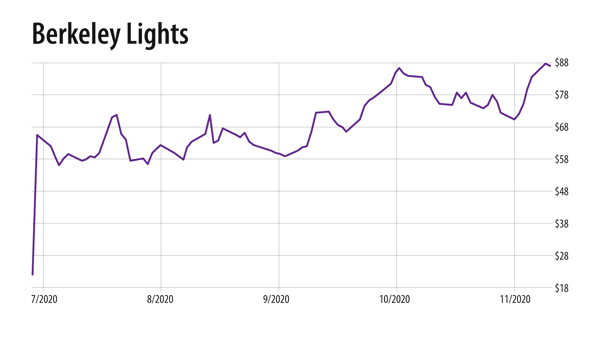 A 140% gain on Relay Therapeutics in less than six months…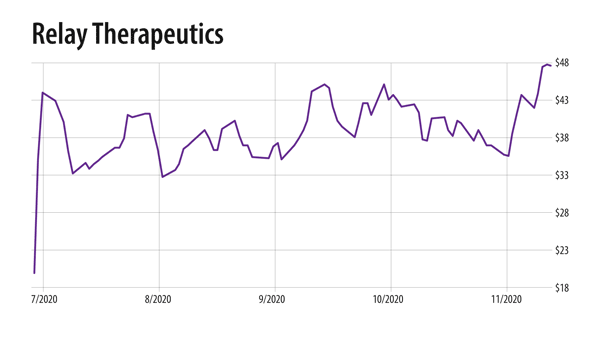 So while I think those huge, amazing six-digit gains are possible … we're not going to settle for just targeting those. That would leave fortunes on the table. And not everyone has 20 years to wait for life-changing gains.
We're taking every possible triple-digit win along the way to snap up as much profit as possible.
Amber: And these gains you listed, they are all real trades you recommended … real opportunities you handed your readers for over a year now. To your point — why wait years to make money when there are profits ripe for the picking … right now?
Paul: Absolutely. If a huge win comes along, great. I love those! But I'm not going to do people the disservice of keeping them tied up for decades on "the next Amazon."
Amber: Now, Paul, the last time we saw something like this … a real explosion of IPOs … was in the late 1990s. Will it be like then?
Paul: In the sense that we have an enormous wave of companies washing over the economy — yes. We're seeing a boom get even bigger as the IPO surge gaps up from $697 billion to $2.1 trillion.
I have a quote here from Barron's that really drives the point home: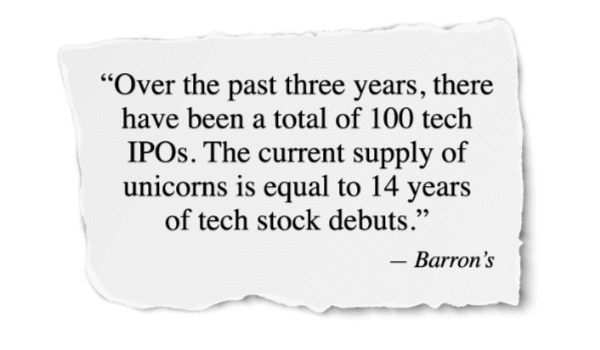 Amber: So the amount of opportunity right now is 14 times BIGGER than the dot-com explosion? Doesn't that seem dangerous?
Paul: There are a few key reasons why this is a situation of pure opportunity, instead of a sign of an imminent crash.
I'll give you three reasons.
The first is sheer longevity.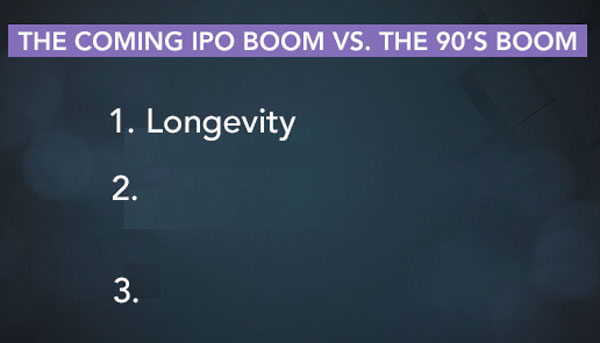 You see, 20 years ago, all a company needed to IPO was a business plan and a website.
Amber: It sure seemed like new companies were popping up every day.
Paul: But now, the companies IPOing have been around for an average of 11 years. Generally, they are companies with customers, sales.
Amber: What's the second difference?
Paul: OK, I want everyone to pay very close attention — because we're going to revisit this later.
The second difference is called "FLOAT rate." It's the actual percentage of shares a company offers to the public.
Amber: Is that the amount of money being raised relative to the total valuation of the company?
Paul: Correct. In the late '90s, companies IPOing were trying to get as much money from investors as possible. So it wasn't uncommon to see over 40% of a company being sold off to the public.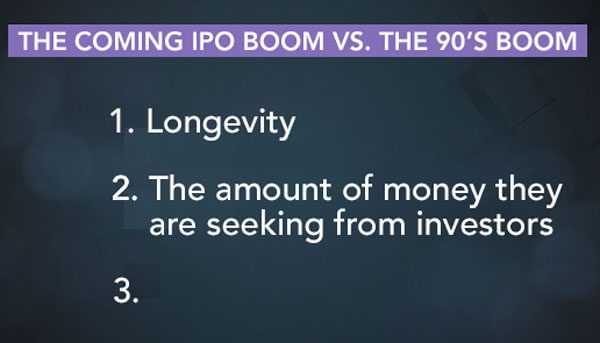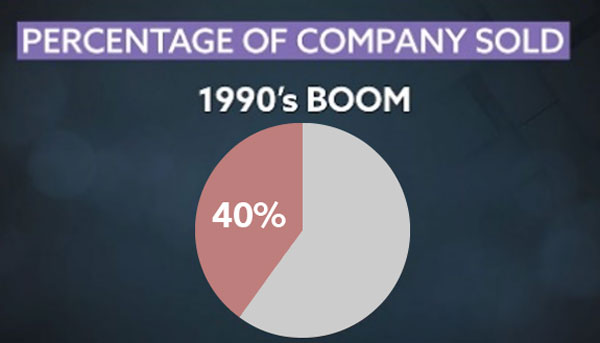 Amber: That sounds like a lot.
Paul: It absolutely is. Today, the average company is offering a mere 22% of their stock to the public. What does that tell you about these companies?
Amber: Well, that the people behind these companies aren't looking to raise money just for the sake of striking it rich and taking off on lavish vacations.
Paul: Exactly. These folks are in it for the long haul — not the payday.
Amber: Got it. So float rate is one of the most important metrics any of our viewers could ever have in hand … and it's also a key difference between today's booming IPOs and the '90s.
So what's the third difference?
Paul: Technology. You see, the companies IPOing 20 years ago had great ideas. But, the technology wasn't there.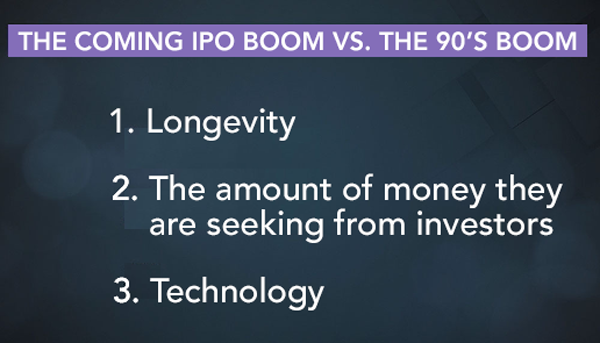 Amber: It's easy to forget ... 20 years ago, most people still had dial-up internet, and only a handful of people had basic versions of a mobile phone.
Paul: Exactly. So the dot-com boom ... while full of great ideas ... simply didn't have the technology available to support it.
To highlight the difference between now and 20 years ago, think of Pets.com.
Amber: That was one of the biggest IPO flops of that era.
Paul: When it IPOd, it sold 40% of its company to the public. Add to that, Pets.com was only one year old and the technology just wasn't there to support it.
Amber: But now, 20 years later, everyone is open to the idea of ordering everyday items over the web ... including pet supplies. I mean, Jeff Bezos, Tony Hsieh, Elon Musk — all billionaires because of it.
Paul: Which is why when a company exactly like Pets.com came along — it thrived. It's called Chewy.com.
Chewy has products, customers, revenue... It's more than just a website.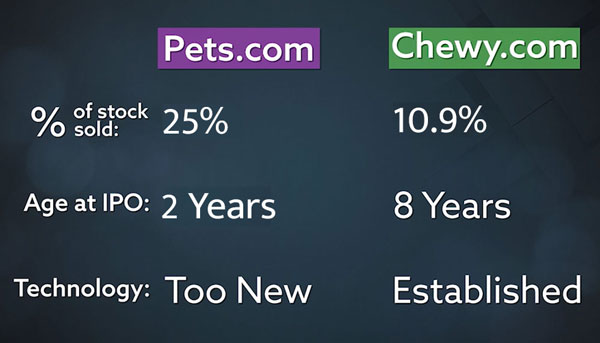 By the time Chewy was going public, it had already made 100 million transactions. And what's more, was experiencing year-over-year revenue growth of nearly 70%.
Amber: The best part is, again — this situation isn't speculative.
You actually hit the bullseye on Chewy for people following your research.
I have this quote from you, on June 11, 2019: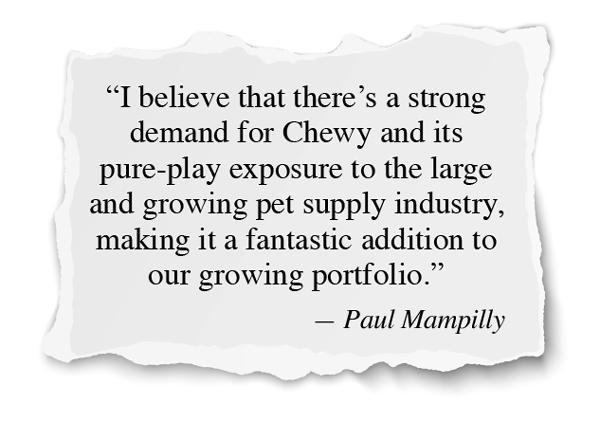 Paul: Chewy was a big hit. And it was even before we perfected our approach … before I fully took the reins of my strategy and implemented it full force.
But even then, if you'd got in specifically how I recommended on June 11, you would have secured a gain of 143% after about 14 months.
Amber: So to your point, this IPO boom is primed to be bigger and better than what we experienced 20 years ago ... because they are selling fewer shares, they are more mature, established companies, and they have the technology to support their endeavors.
Paul: And I believe fortunes will be made.
In my opinion, there's no other option — not when the market is roaring from $697 billion to $2.1 trillion in capital toward IPOs.
And I'm not alone.
Barron's agrees with me, stating: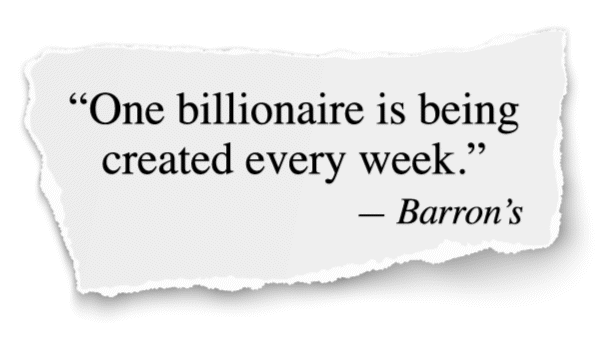 The Wall Street Journal flat-out declared: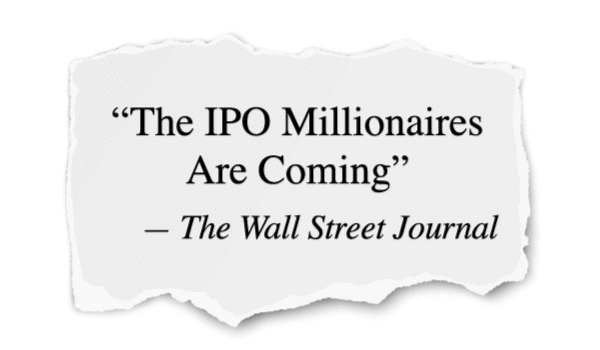 That's the kind of prosperity I want to help people aim for … starting with my top three IPO opportunities right now.
Without a doubt, I believe these could be the next runaway success IPOs — the next nCino, or Monopar Therapeutics, CureVac, FuboTv … delivering gains from 100% to 400%, almost 500% in weeks or even days.
Amber: I definitely want to dive into that —
But before we get there, I wanted to touch on a few things for those watching at home.
Because while you've been on top of the IPO markets diligently for more than a year … studying it top to bottom … there have been real people who joined you on this journey, profiting the whole way.
I wanted to share their thoughts on what you've managed to achieve so our viewers know … this isn't a hypothesis.
Folks, we're not talking about a "back tested" strategy or "historical gains" when we mention Paul's gains on Livongo … Chewy… CrowdStrike … Monopar … or any of his other home runs.
Just look below to see the gains he has pinpointed over the last few years…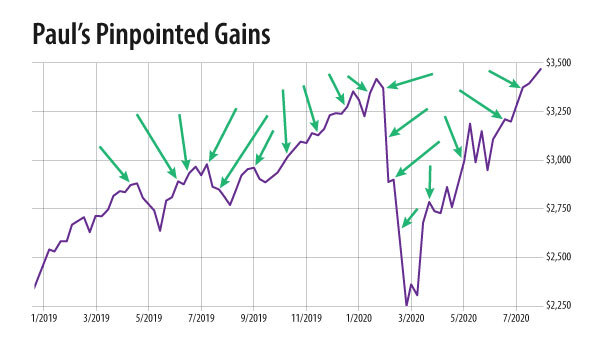 That's all taken from real time, real recommendations issued week after week for Paul's readers.
Here's what some of them have had to say:




Paul: It's hard to express just how much I appreciate each and every reader — I know it takes a lot to trust someone with your investments … even more with something that can seem as exotic as IPOs!
But the truth is, this is an innovative way of targeting the IPO markets … one that allows us to isolate companies the public eye has failed to notice … just before they make incredible leaps. And it doesn't always mean investing before the company goes public, in fact, I don't recommend that at all in my research — it is all about picking the right moment to get into a stock after it goes public, whether it's on the day of the IPO or otherwise.
Amber: Can we pull up a few here for people watching?
Paul: I came prepared.
Here's one — Inari Medical.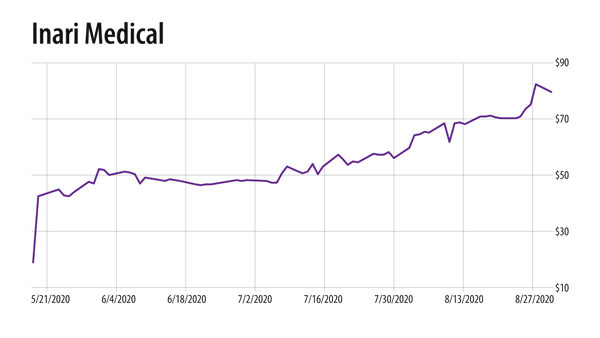 Few people were watching Inari Medical — but from May 22 through August 31, the stock could have put a 332% gain in your pocket with the right timing.
Amber: We're talking what, maybe three months and a chance to turn $5,000 into $21,600? During a pretty tumultuous time in the markets, too.
Paul: The news is always a distraction. Just look at Nano-X Imaging — all eyes were on the news, on the media spin, on what some tabloid superstar company was doing … and everyone missed this IPO popping 118% in 13 days!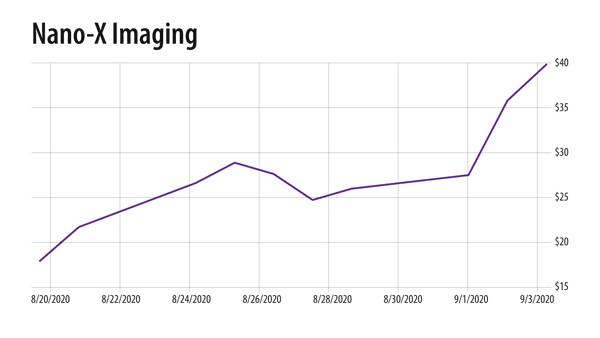 Even ADC Therapeutics hit the ground running … jumping 149% in less than three months.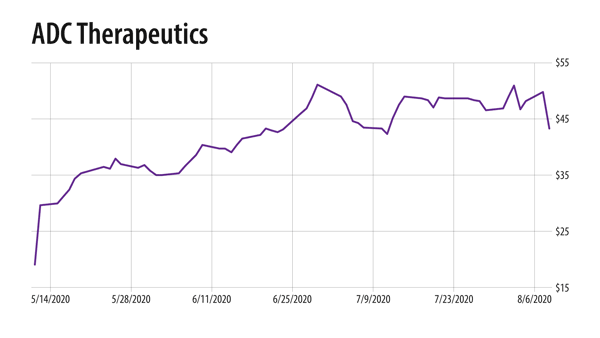 Amber: And these are three — just three, folks — of the dozens of winners Paul has taken over the past year. Winners that have helped him build perhaps the most formidable portfolio of IPO trades I personally have ever seen.
Paul: Again — all it takes is positioning yourself before a stock hits a parabolic surge.
And with the global shifts we've seen over the last year, the number of opportunities has made a big leap…
Amber: Today, we've talked about some big wins you've had — Inari, Chewy, nCino, ADC … again, these are just a few of the triple-digit gains.
But I think there's a big one — really, a "once in a blue moon" event — I think viewers would love to hear the details about.
I'm talking about Monopar Therapeutics, of course.
Paul: This was a big win for us. While we had some other huge wins in CureVac, Inari, FuboTV — many more — this is without a doubt among the biggest, fastest wins of my career.
Amber: Let's walk through that some, to illustrate for our viewers how really "on the mark" your approach can be.
Paul: Sure thing.
Monopar is a biopharmaceutical company with a specific focus on cancer.
At the time it was going public, the biotech market had just begun a major bull run and Monopar executives were keeping a tight grip on the amount of shares it was giving to the public for IPO.
Amber: The float, right?
Paul: Right, exactly, and I'll get into that in just a bit.
But, what really made this company stand out to me is its pipeline: Monopar's drug, Validive, was ready to start phase 3 testing for oral mucositis.
Amber: I believe that's actually a fairly common side effect of taking cancer drugs?
Paul: You've done your research. Amazingly the "go-to" treatment for mucositis published by the National Center for Biotechnology Information ... is to chew a lot of ice and hope for the best.
Amber: So Monopar's drug could really help a lot of people.
Paul: You combine a phase 3, in-demand drug with a raging biotech market at the time, and a low number of shares in the IPO offering and you can see why Monopar blasted off.
Amber: Blasted off is the word.
You actually gave readers specific instructions beforehand on how to secure shares as soon as the stock officially went public…
Paul: Fortunately, a lot of folks reported they got in and were able to ride this enormous surge that hit the moment it went IPO.
On December 19, the company went public.
Within 24 hours, Monopar was up 400% — the biggest first-day IPO run since Baidu in 2005.
Amber: You actually wrote this in your buy recommendation: that the circumstances around Monopar could lead to "a massive, one-day gain in the stock price"
Paul: While I was thrilled with the quick move, and the fact many people who follow my research got in at or near the open, this was a fast gain. It was like the force of a slingshot firing off. But like a slingshot, once it has been shot, it loses all tension. I knew it was time to get out.
Amber: "Losing all tension." That's a polite way of putting it. Your timing here with Monopar, was, well, impeccable. Cause you issued the SELL the very next day!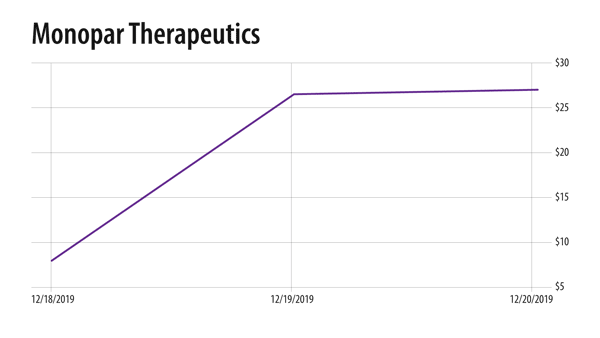 After that 400% gain for your readers … the stock fell from $27 to less than $6 — a drop of almost 80% in less than a year.
But your readers didn't see this drop — they only experienced the enormous gain you nailed for them.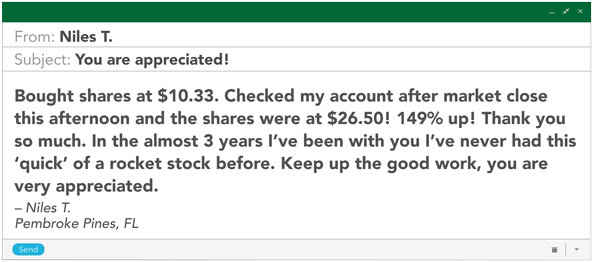 Paul: I never get tired of hearing those stories. It really makes my day.
But honestly, I think we can make many more stories like these happen in the IPO boom I'm seeing right now.
A boom BIGGER than the one which generated those gains.
A boom triple the size, as we race from $697 billion to $2.1 trillion into the IPO markets.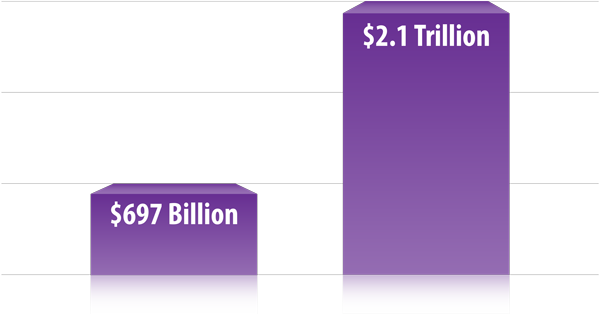 There are three IPO opportunities about to break the dam and flood the market — changing and reshaping everything in their path.
I'm talking about possible gains of hundreds of percent, in a matter of months, or even weeks.
Amber: Before we dive into how people can hear about that, Paul — which I want to soon — I want to address something…
Right now is such a hot time in the IPO market, so-called experts are coming out of the woodwork.
But you're not just jumping on a hot trend.
You've been here for some time, pinpointing record profits…
Enough to beat the market 3-to-1 over the last few years.
And you still believe there is opportunity in these early-stage companies?
Paul: Extremely — as long as you're selecting them with the right criteria. And I have to be honest... All investing carries risk. This strategy is no different. And without a good system in place, this could be even MORE risky than most investments. That's why I employ a full research team even as I watch the markets every day.
Amber: And we can say pretty certain, Paul … having trained eyes watching the markets, siphoning tons of powerful data straight to you, has paved the way for amazing home runs.
I have a few more highlights from your portfolio right here, I wrote these down because, honestly, I found all of them fascinating:
Oak Street Health is a company revolutionizing the systems for providing care to Medicare-eligible patients — your readers were able to secure a 137% gain in only two months. Amazing. But not the only story.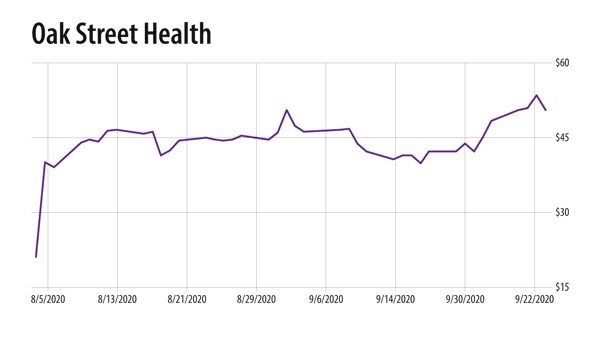 Or how about this — this one really shocked me. You told your readers to buy into Lemonade on June 26 for its July 2 IPO. This company uses artificial intelligence to process insurance claims on an app – immediately depositing the claim amount if the AI approves it. 5 months after the IPO, your readers closed this trade for a gain of 227%.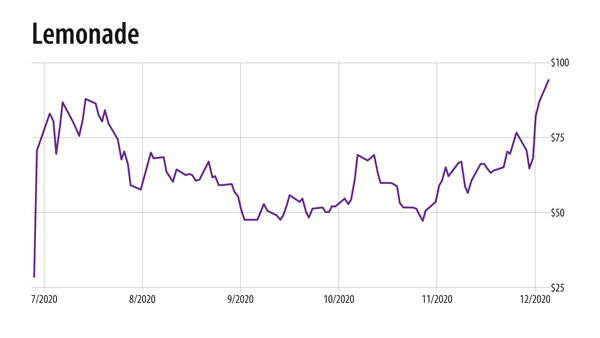 And this one … this is incredible. CureVac is a biopharmaceutical firm with a breakthrough that tricks the body into creating its own medicine with encoded proteins. This trade handed your readers an astonishing 478% gain in a little over three months.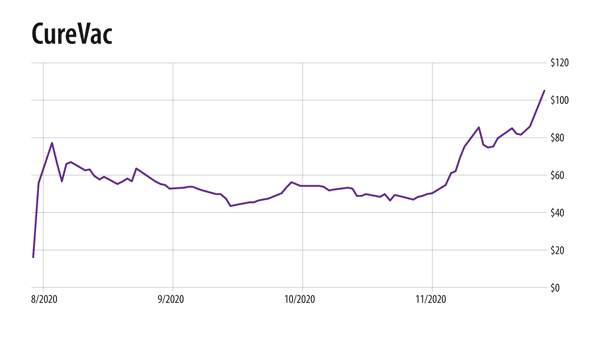 Paul: Now, those are exceptional returns … But I was fortunate to have seen the bull moves coming … and sent out immediate alerts for my readers telling them to secure their stakes.
All of them broke triple-digit territory within a month.
We've been very fortunate to catch some incredibly powerful trends and profit our readers.
Amber: Paul, I want to interject here because I think you're being very humble. For everyone watching, let's remember Paul's 81% win rate over the last year in his closed recommendations … and the fact that the post-IPO model portfolio has delivered an astounding 130% growth in just two years.
This is a chart showing you those returns across the last 12 months.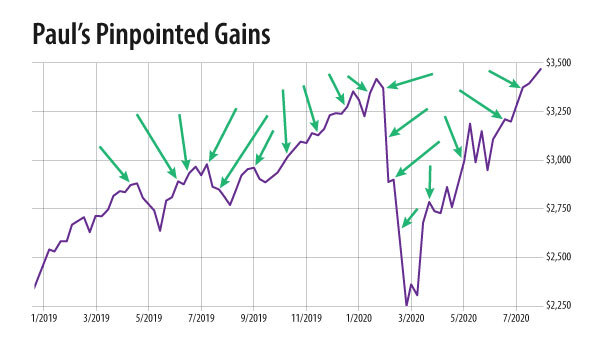 That's the biggest winners, the biggest losers, the middle of the road successes — equally invested.
Lean in, because I have a serious question for you: When was the last time you had the potential to DOUBLE your account, while the market delivered a mere 39% return?
It took the S&P five years to go from 1,900 to 3,700.
That's what you're discovering right now — not only how Paul has done this — but how he plans to do even better.
Alright, on that note, Paul maybe you can help us look forward — what happens next … how does it get better from here?
Paul: I am constantly refining my approach. And I think those numbers are going to keep getting better. Not only do we have the 500 unicorns waiting in the wings with a $2.1 trillion injection to give the markets…
But we also have my top three opportunities right now. Situations I fully believe have the potential to eclipse our winners thus far — better than 300%, 400%, 480%.
Plus, I believe we finally nailed down the best approach to capturing those gains, after refining it for the past year.
Amber: Could you tell our viewers a little more about that?
Paul: Well, you know, originally, we wanted to target stocks just as they were about to go public, we wanted to get in early. But now, we have changed the strategy a little bit. I realized that not every reader can get into these stocks pre-IPO, and I wanted to make sure I'm giving all of them as many chances to win as possible.
Amber: So how do you go about picking the stocks for them now?
Paul: What I do now is still pretty straightforward. I use my three metrics to determine not just what stocks to recommend, but when to recommend them. Because getting in on the big IPO day isn't always ideal.
In fact, many of the gains we talked about today were made post-IPO — meaning that we sent the alert to readers when the company has already been publicly trading for a little bit.
Oftentimes, what the stock does on the first day tells me what its trajectory will be — so I watch it very closely and send the alerts out at the time when I believe the profit potential is at its maximum.
Amber: That sounds so simple, yet not everyone thinks about it! You're right, we have seen many IPOs rocket up on day one, only to get quoted down later. If you got in that first day, you might not have gotten the best price.
Paul: Exactly!
Amber: Paul, you said there were three key things you look for in IPO stocks to determine the best one for your readers. Can we dive into those?
Paul: Of course! These are deceptively simple — but they are the bedrock of my analysis. The first metric is scarcity — which I measure by studying the float rate.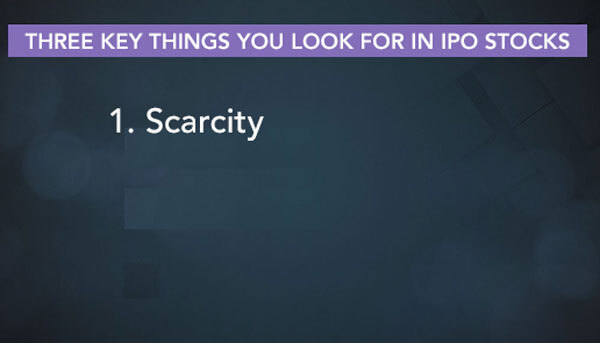 Amber: That's the actual percentage of shares a company offers the public, right?
Paul: I'm glad you've been paying attention! Yes. We want it to be less than 20%.
This means that internal players value the stock and want to keep tight control over it. That's confidence in their business.
Amber: And we saw earlier how this has been a huge difference between modern companies and tech bubble IPOs that were offering float as high as 50%. What's the next one?
Paul: Next, I look at sales growth. That's what IPO investors look at, it's the basis of the company that tells them if it can grow. If there are no sales, or they have no prospect of sales in the future, nobody would want to buy their stock.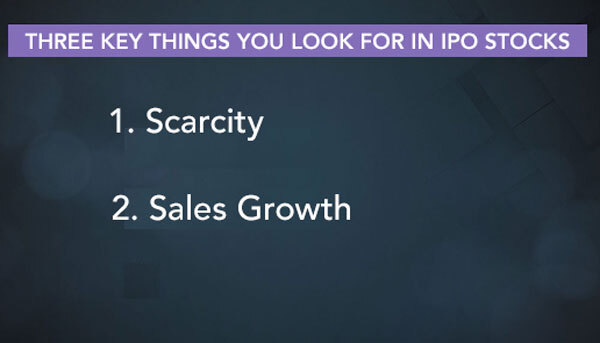 Sales — or a very saleable product, like Monopar had with its phase 3 drug — is an important tool.
Amber: And your third metric?
Paul: Disruptiveness.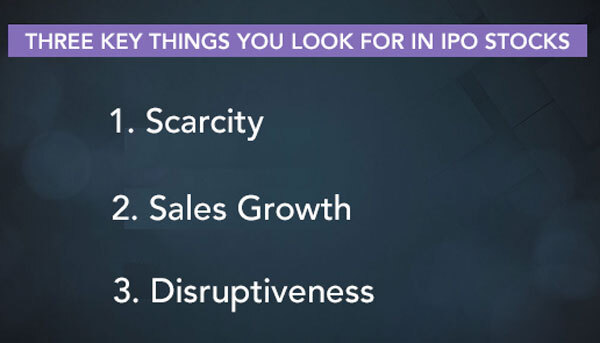 That means you have a product or service that is going to displace another company in its sector, one that used to be in control. It's a company that's capable of replacing an old thing with a newer, better one.
Amber: I see. Do you have an example of a company that checks all your boxes, so to speak?
Paul: Of course.
Let's pull up a chart of Inari Medical…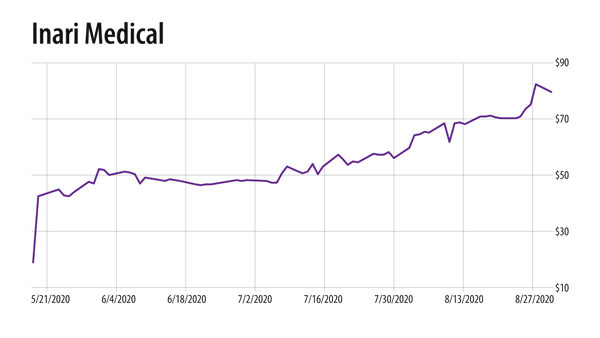 Inari Medical is a medical device company with two FDA-approved thrombectomy devices. These are minimally invasive instruments that remove blood clots in veins.
Let's look at it with my system. First — scarcity. Inari only had a float of 15.2%.
Amber: Well below your 20% threshold. What about sales?
Paul: Hold on to your hat for this one.
Inari had experienced a 649% year-over-year growth in sales.
Amber: I'm guessing a big part of that is because of its disruptiveness?
Paul: Precisely. Inari's two medical devices have a few key differences from the industry status quo.
It used a completely different mechanism of removing clots. And the efficacy of its technology is just being proven over and over again.
There was even a clinical study done by the Journal of the American College of Cardiology.
After analyzing all the individuals who used this technology, they found Inari's tech works in 97% of cases. And that 3%?
It had to do with the doctors administering — not the technology.
Amber: For a medical company, that's enormous.
Paul: Precisely. All of this data stacked up to prove one thing: Inari was about to make a big move. There was just too much pent-up demand, hot money and innovation for it to be contained any longer.
The result is that on May 18, I published this alert for my readers: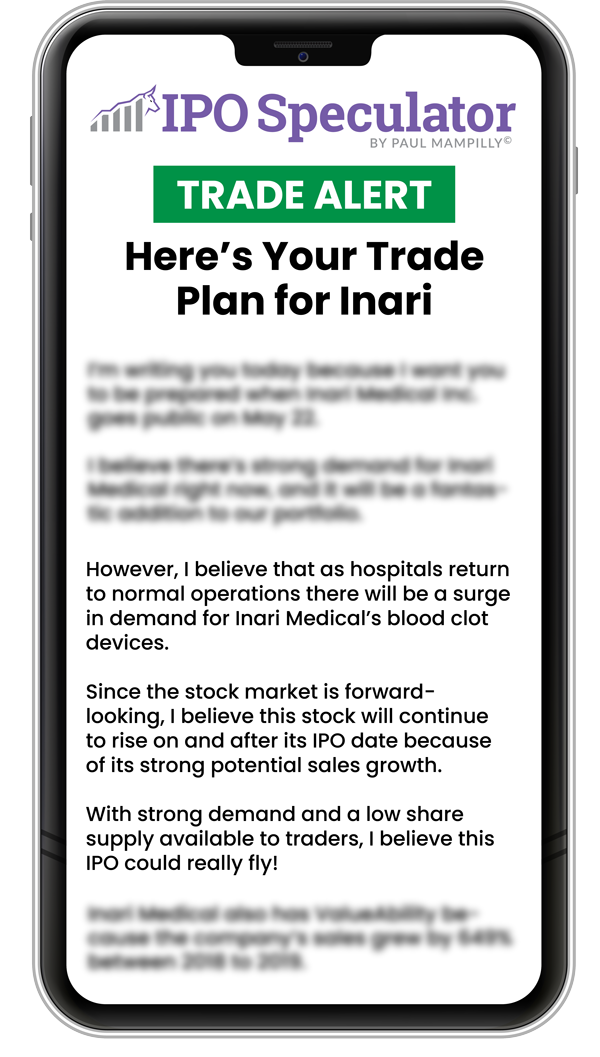 Amber: Well, it looks like you hit the bullseye — because Inari Medical did jump … and experienced a bull run from its IPO on May 22 to August 31, delivering a gain of 332% to your readers.
That type of win turns a $5,000 stake into almost $22,000.
And your readers wrote in with their exact results… Keep in mind, some folks didn't get in at the exact price or the right time … but still walked away with a windfall.



Folks, imagine one trade that could make your summer.
With Inari, $5,000 would have turned into $22,000 — the equivalent of $5,000 per month in profit.
That's the life-changing power of what Paul has shown today — the power of the IPO boom unfolding around us… A boom of unprecedented proportion, capable of minting new fortunes every single day.
Paul: And it's not the only one. That's the beauty of my system — they fit perfectly into the market right now … and isolate incredible opportunities for my readers.
Amber: Were there anymore that stood out for you?
Paul: Well, some. For instance, I saw Nano-X Imaging, a company with a tiny 18.2% float, revolutionizing the medical imaging industry.
While the cost of conventional X-ray tubes average about $150,000, Nano's NANO.ARC technology only costs $100.
Amber: Revolutionary is definitely the word. A $100 X-ray tube is a game-changer.
Paul: The market thought so too. With FDA approval, it was looking to install 16,000 devices by 2024. Within 12 days of IPO, it handed us a gain of 118%.
Amber: Do you have a few more to share?
Paul: Let me highlight another I was personally really excited about: 1Life Healthcare. It had a float of 12.5%. This company is a leader in the telemed industry — allowing patients and doctors to seamlessly communicate.
Amber: That's telemedicine, correct? There have been some big leaps in this sector.
Paul: Enormous leaps. In fact, the industry is expected to hit almost $300 billion by 2028. It is the fastest-growing segment of health care — and that was BEFORE this trend got accelerated in 2020.
1Life HealthCare has been a significant player in this trend — and I wanted to make sure my readers had a chance to profit.
Amber: You know, to that point, I actually have a quote from you from January of 2020 about 1Life's past growth:
Paul: And it just kept growing. From January 31 to July 17, 1Life delivered a gain of 177%.
Amber: Paul, when you describe these investments — your passion about them, your understanding of their intricacies … the fact you really care about your work shines through. It drives home HOW you've been so accurate. You've hit a win rate of something along the lines of 80%, right?
Paul: Yes, it's 81% on our closed positions.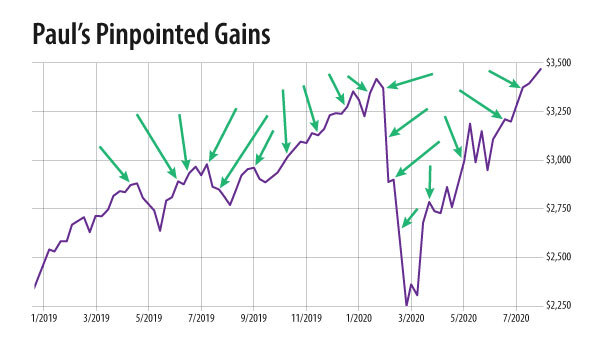 Amber: Wow. And more than two dozen triple-digit wins. You don't shy away from the "heavy lifting," so to speak.
Paul: I have an incredible team that works by my side every day. Put together, we each put in hundreds of hours every week, analyzing companies, studying sectors, getting on the phone with industry insiders, reading between the lines of corporate filings, checking and rechecking the data.
The consensus is simple: If people are reading our work, trusting our research with their hard-earned dollars, we owe everyone that "sweat equity."
Amber: I'm sure that brings everyone a lot of comfort, knowing there's that level of dedication.
With that said, now that everyone watching has seen your system … your take on the IPO boom as it surges from $697 billion to $2.1 trillion … the opportunities ahead…
I think it's time we talk about the TOP IPO trades on your radar right now…
Paul: Yes, I've been waiting for this moment.
You see, my team and I have been analyzing these opportunities for over a year — with no exaggeration.
We've been studying them before they even decided to go public, because we knew it was imminent.
These are revolutionary opportunities that have already quietly changed the marketplace in subtle and dramatic ways — and they're only getting started.
Amber: You think your three IPOs today have that Tesla potential?
Paul: Nobody can ever say that for sure. But I believe these opportunities will be some of the most profound winners of the coming years.
You're probably already benefiting from at least one of them right now — but there's a way to truly reap the windfall if you know how to invest in them at the perfect moment…
Amber: So how would someone get the full breakdown on these three IPOs?
Paul: I've assembled the full details in a brand-new report with a thorough breakdown of all three IPOs: I call it DOMINATORS: The 3 Keystone IPOs of America 2.0.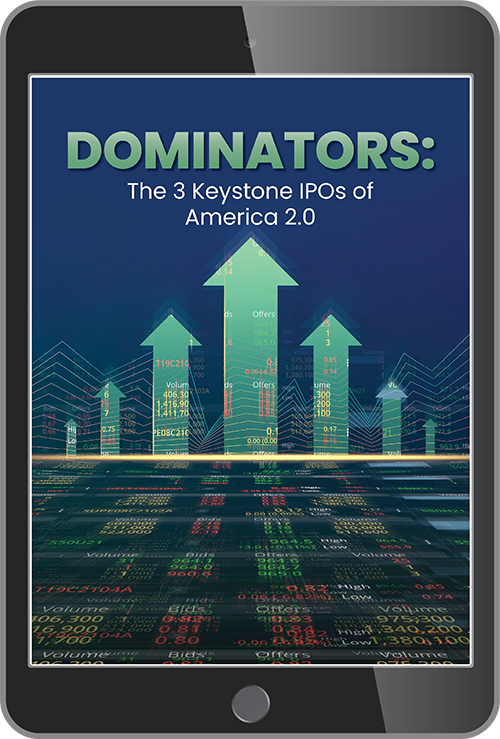 And I want to make that report available to a handful of our viewers today … so they can begin profiting immediately.
I want to help our viewers make their dreams possible — to show them there is a way to invest successfully. And I believe this is the perfect place to start.
Amber: You're surely doing that already, according to what some of your readers over the years have said. I'm going to take a moment to brag about you ... again!
Listen closely, because this could be you in just a few short months.
Here's one from Thomas, in Cocoa Beach, Florida: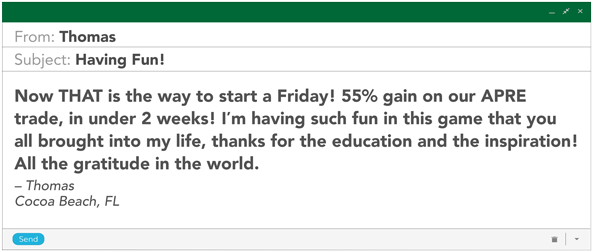 Here's another from Donald in Dallas, Texas:

Just one more — this is from Trisha. She's out of San Francisco, California:

These are powerful results. Combined with the other stories we've heard today, it genuinely seems like you're just getting better each and every year.
On that note, you have a pretty big announcement.
Paul: It's because of letters like those, we've decided to make a big professional move.
As I said, we've been refining our approach for some time…
And we've emerged with a closed win rate of 81%, while beating the market 3-to-1. We actually had our track record independently verified, and anyone who joins today can access that report on our website. Our current readers see it on the same page as our model portfolio.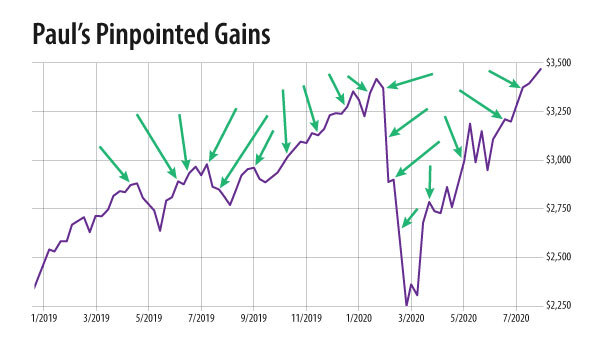 Amber: That's incredible! Not everybody is willing to allow an independent audit of their track record.
Paul: Well, our readers have had the chance at incredible results if they followed our model portfolio. And I believe they will only get better.
Right now, we're in the midst of the biggest wave of IPO wealth in history ... I believe the chance for someone to supercharge their portfolio has never been easier.
In 2019, we launched a research service called IPO Speculator, and we've kept it pretty quiet, but I want to give our viewers the chance to become subscribers today.

And it's to each of those who join us today that I am guaranteeing the chance to grab 12 triple-digit gains over the next 12 months, minimum.
Amber: That's a lofty goal.
Paul: Well, it certainly is. But I've already done it. Over the last year, IPO Speculator closed 32 triple-digit gains…
Amber: Wow! I'm really excited to know … how exactly does the IPO Speculator membership work?
Paul: We set it up so that my team and I do all the research on the IPO market. When it's time to make a trade, we will send out an alert via email. We will tell you what to buy, along with our detailed analysis and research explaining why it's a buy, so you can make an informed decision on your own.
Amber: How many trade recommendations do you expect to make in this service?
Paul: As I showed earlier, dozens of IPOs are filed every month. But we only want the cream of the crop. So we expect to publish at least 12 recommendations a year.
Amber: Well, that aligns perfectly with your end goal to give our members the chance to grab 12 triple-digit gains over the next year.
Paul: Right! And every week, we will send out an update to our readers. This is where we will review our positions, answer any questions they have. We never want our members sitting in the dark.
Amber: That's fantastic. Really, it's like getting an education on how to trade and invest. It's like members are getting a master's course on how to really look at the IPO market, through the eyes of an expert who has moved billions of dollars.
Paul: I work really hard researching these investments. It's a full-time job keeping up with all the IPOs as they emerge.
Amber: You've already shown us immense proof of the potential gains straight ahead.

If this is the kind of winning potential members of IPO Speculator can expect, I can't believe anybody would turn this invitation down — especially with an unbeatable guarantee for the chance to grab 12 triple-digit gains over 12 months.
But there is a catch — membership to IPO Speculator is extremely limited.
Paul: That's right. Only 500 people will be able to join as premiere members at this price today.
We've kept invitations to this research very tight. There have only been a few offerings since I first made it available.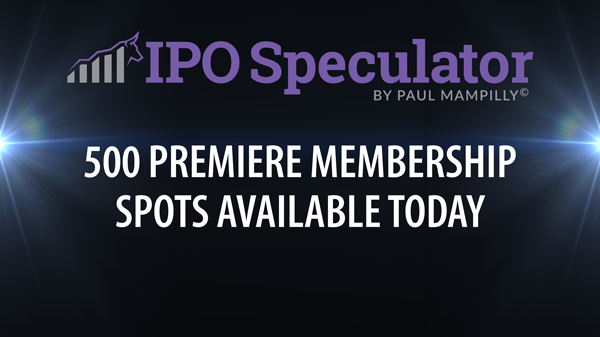 Amber: And considering you have over 200,000 readers ... we're talking a fraction of a percentage who will be able to sign up and access this research.
Paul: Again, I want to limit the membership spots to serious folks only. We've designed this for people who are eager to grow their wealth.
Amber: And again … you're guaranteeing that if they subscribe, our viewers will have the chance to make no less than 12 triple-digit winners over the next year?
Paul: Now like I've said, no one has a crystal ball for the markets. My team and I work hard and, right now, 81% of our closed trades have been winners. I'm very proud of that and the effort my team and I put into every trade.
But if I don't show my readers the chance to make 12 triple-digit gains over the next 12 months ... then they have the right to give us a call and put all our resources to work for them again, for another year, free of charge.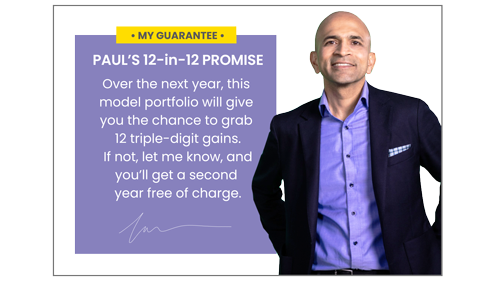 Amber: And these 12 triple-digit gains … they are the minimum. So, our viewers shouldn't think about making just 100% on every trade recommendation that comes out. Some won't hit that, or be winners at all. But others could see 100%, 300%, even 400% or better in the most exceptional circumstances … all in just a few short years...
You have already shown your readers that it's possible.
Paul: And, I want to jump-start anyone who joins today with a free copy of my new report ... DOMINATORS: The 3 Keystone IPOs of America 2.0. This report is critical, as it outlines the three TOP IPO opportunities I see right now.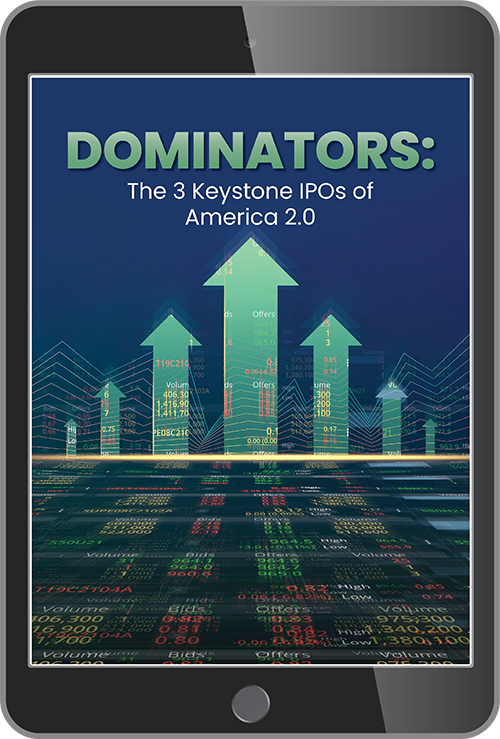 Amber: And that report goes out, today, to those who make the jump and become premiere members of IPO Speculator?
Paul: Absolutely. I'm ready to send these out today.
Amber: Folks, Paul is one of the most illustrious investors to emerge from Wall Street.
And perhaps the only one, period, to openly share all his tools and tactics for achieving extraordinary wealth.
Today, you're being invited to take the next step.
Is that right, Paul?
Paul: It's simple — as one of the few invited to this historic event, I want to present our viewers with what I TRULY believe is a life-changing opportunity.
By allowing 500 new people to join my IPO Speculator service at this special offer.
Five hundred out of over 200,000 readers.
Amber: To recap — this is the same service with an 81% success rate in closed recommendations since you took the reins … that beat the market 3-to-1.
Everyone watching, understand — teaming up with Paul today in IPO Speculator means one thing: You are positioning yourself to get in on investments like 332% on Inari in three months … 178% on 1Life Healthcare in just five months … or 104% on Livongo Health in under a year.
Paul could easily charge upward of $50,000 a year for access to this level of research.
A fee a large financial institution gladly paid to Paul and his team when he was on Wall Street.
Paul: But that's nowhere near the cost today. I want to give back, want to make these gains possible for as many Main Street Americans as I can.
I'm not ever going to charge $50,000 a year for IPO Speculator.
Or even $10,000.
The retail price for IPO Speculator is $5,000 per year.
Amber: But they're not even going to pay that today, are they?
Paul: You got me. As part of this special broadcast … I've set up a special price for the first 500 people who join me today.
The price for these first 500 people … for an entire year of access to IPO Speculator … is only $2,995.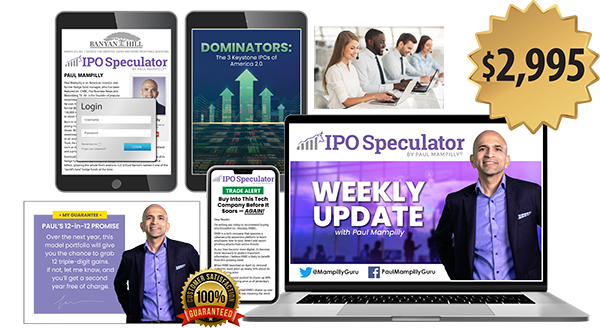 Amber: Remember everyone — you can get access to IPO Speculator today for just $2,995 — a 40% discount from the already low retail price … if you are one of the first 500 today.
I'm sure these spots will be vanishing quickly.
Here's what you'll get when you become a member today:
✔ Timely Trade Alerts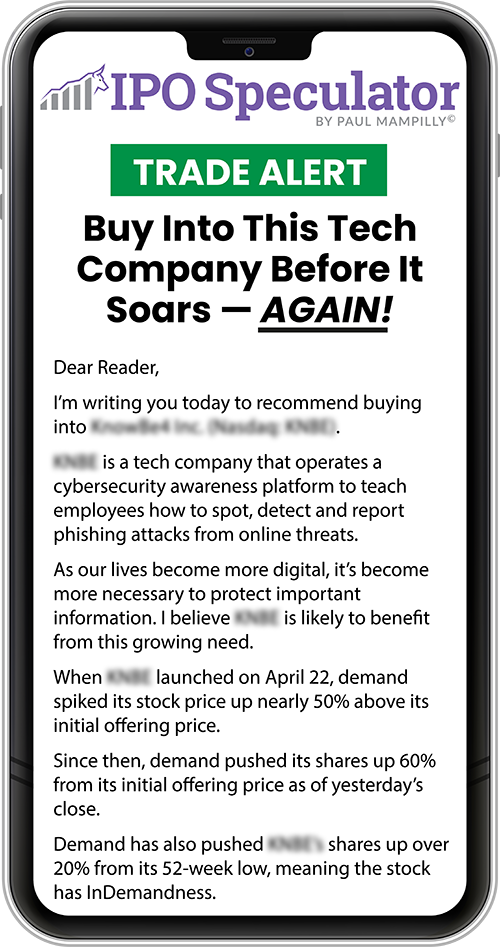 At least 12 times a year, Paul will publish a confidential trade recommendation and send it to you by email.
These will contain all of their research and analysis on the newest opportunities he has spotted.

When it is time to sell, he will let you know.
✔ 52 Weekly Updates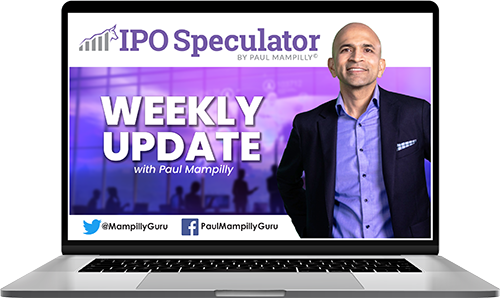 In these weekly updates, you will receive a detailed IPO market analysis and review of the positions in the model portfolio, as well as answers to your questions.
✔ DOMINATORS: The 3 Keystone IPOs of America 2.0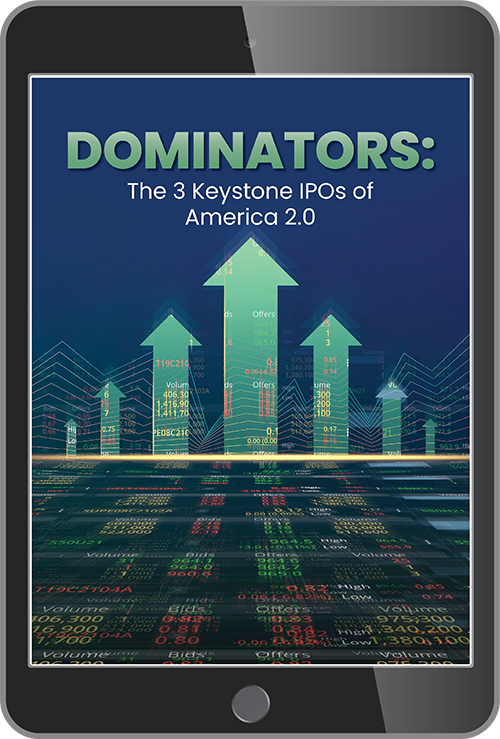 According to Paul, these are his top three IPO picks, right now, for the chance at historic profits, profits on par with legendary companies like Google, Amazon, Netflix, Microsoft ... companies which are now household names and giants.
Paul lays out the full details about these investments so you can position yourself to make money hand over fist in the days to come.
✔ My Risk–Free Guarantee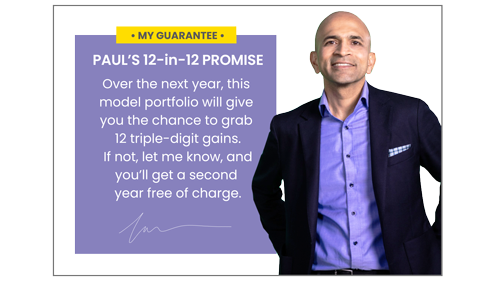 Members will receive the 12-in-12 guarantee: Over the next 12 months, this model portfolio will give you the chance to grab 12 triple-digit gains.
If not, let us know, and you'll get a second year free of charge ... or switch you over to try another one of
Paul's services to help you meet
your goals.
✔ A Dedicated Customer Care Hotline: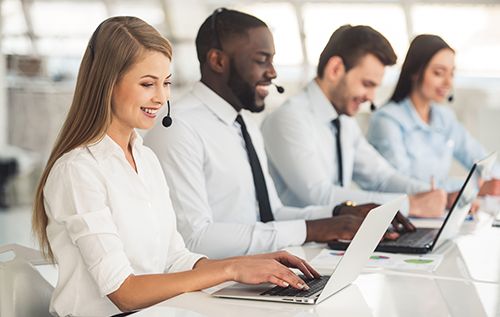 You'll receive a confidential phone number, giving you direct access to our highly trained and specialized member care team.
These are men and women we've worked with specifically to help you with your IPO Speculator subscription.
✔ 24/7 Web Access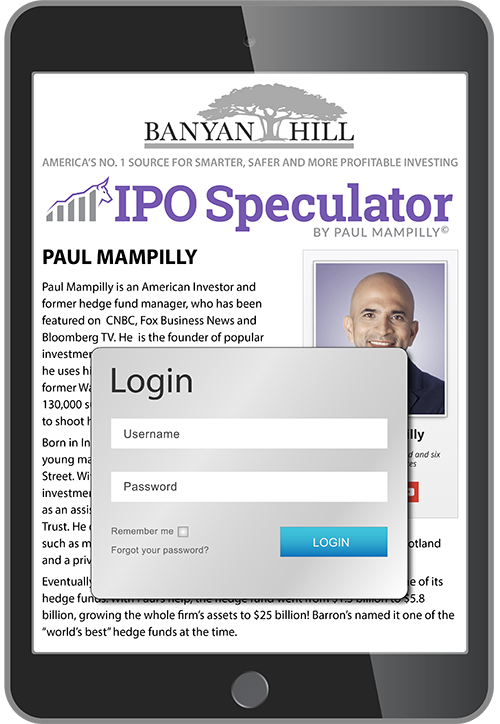 Within moments, you'll have an exclusive-access login and password for our encrypted website.
You can use this site to access every report, trade alert, weekly update, the entire model portfolio and more.
Anything ever published for IPO Speculator members will be available to you here, anytime you want to
access it.
This is a value of over $50,000, but it's yours ... for just $2,995.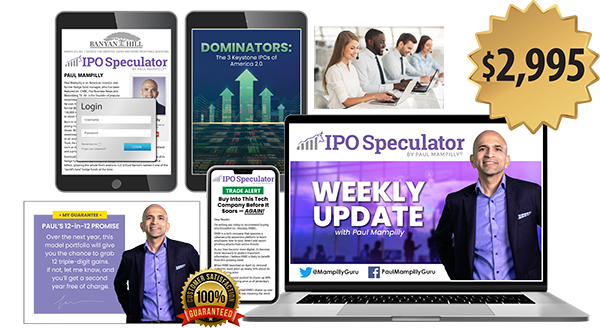 Over the years, I've convened with some of the biggest names in the financial world.
Paul, you easily rank among them.
I've never seen an opportunity that gives Main Street the chance to team up with an analyst of this caliber ... especially at such a small fee.
Paul: The goal is simple: Members will never have to blindly guess at IPOs again. I'll be there to guide them on which opportunities to attack — and how.
There is no question, not a doubt in my mind, that if you are positioned properly … the gains ahead of us could make you a fortune.
Remember — we're seeing a leap from $697 billion to $2.1 trillion in the IPO markets.
This is an unprecedented surge. And I believe the opportunities manifesting will be equally legendary.
Amber: That's truly exciting.
Folks — the clock is officially ticking.
To see all the details on how to subscribe to IPO Speculator, simply click the orange button below.
But hurry.
This discounted offer is limited to the first 500 people who respond today.
You've already heard from the people who put this system to the test and did not regret it.
And from people who have used Paul's system and had a chance to pocket 400% in just one day … 139% in two months … 142% in four months … 178% in just five months … or 104% in under a year.
These are Paul's readers telling you of the wealth that could be straight ahead.
All of these are real profits ... profits Paul is devoting every day to tracking down and finding for you.
Now it's your turn.
Simply click the button below to review all the details on how you could add 12 triple-digit gains — minimum — to your account in the months ahead.
June 2021